The Valentine's Day Dream Versus The Harsh Reality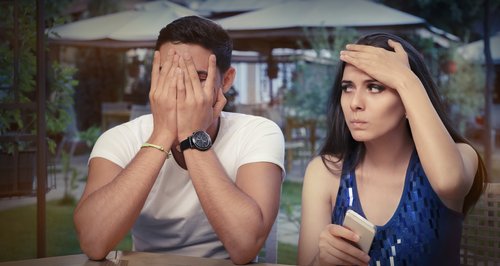 Let's face it, Valentine's Day is rarely how we imagine in our office day dreams... whether you're one half of a smugly happy couple, desperately single, unhappily married or just happy to be free of it all, V-Day comes with tons of potential pitfalls!
Still, we guess it's nice to make the effort (!) Just make sure you don't make any of these classic errors...
1. When you had your hopes set on a candlelit dinner with the office hottie, but end up with a takeaway for one...
Hey, we always preferred fried chicken to Oysters and bubbly anyway...
2. When you're looking forward to that romantic night out, but you left it too late and all restaurants EVERYWHERE are fully booked.
Seriously. It's the same date every year guys, you can't claim this one crept up on you.
3. When you're expecting a bouquet of long stem red roses... but you get a wilting bunch of dyed blue flowers from the garage...
NO. NO. NO. NO. NO!!!
4. When you're dreaming of being snowed under by Valentines cards... but you're, ehem... not?
So another year passes by without even one measly card. Sigh. Oh well, there's always next February 14th...
5. When he just completely forgets.
HOW this is possible when the whole world seems to shouting about chocolate hearts and red roses from the tops of their lungs, we're not sure... is your other half living under a rock?!
6. Or worse, remembers, but buys you One Direction's new fragrance.
(Come on, if we wanted to smell like a teenage girl, we'd at least buy Britney Spears).
7. When you have plans for an uber-romantic meal for two, but the restaurant's too busy, the food too expensive and the service is slow...
Seriously, have you ever waited this long for food, EVER?!
8. When they promise you a romantic home cooked meal... but you end up getting burnt offerings.
We don't mind that you can't cook, honestly... just don't pretend you can!
9. When your friend hears you have no plans and invites you on HER and bae's Valentine date.
We KNOW our BFFS just looking out for us, but per-leeease, pass the sick bucket)
10. If you DO decide to go out, your worst fears are confirmed as you're surrounded by loved-up couples everywhere you look.
Seriously, why is EVERYONE kissing?!
11. When the pressure all gets too much and so they end up breaking up with you...
(This one's our favourite!)
So whether you do or don't have a hot date lined up with Valentines, we wouldn't fret too much!