Watch Heart-Warming Moment Bus Driver Stops To Tie Elderly Woman's Shoe Lace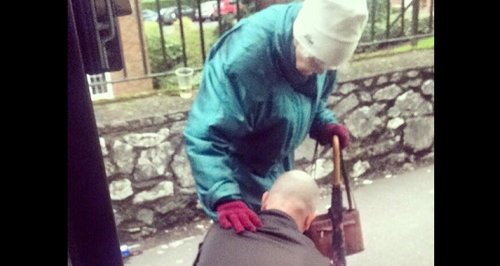 A bus driver has become something of a celebrity after stopping his bus to ensure an elderly woman wouldn't trip on her shoe lace.
Right. You grab the tissues and we'll get the industrial-sized Ben & Jerry's because things are about to get emotional.
A picture of a bus driver tying an elderly woman's shoe lace has gone viral after an onlooker posted it on Facebook.
The moment in Cork, Ireland, was captured by another passenger on the bus, Clara O'Brien, who shared a photo to the Bus Éireann Facebook page said: "I want to commend one of your bus drivers who was driving the 205 service from CIT to Kent Station at 15:40,
"As an elderly lady was getting off the bus she almost tripped. Once she was off, the driver noticed that her lace was undone and he stalled the bus to tell her. When she said that she knew, he realized that she wasn't steady enough on her feet to bend down and tie it herself, so he got off the bus and tied it for her.
"He was so kind to her and went out of his way to look after a customer. I haven't seen someone do something so kind in as long as I can remember and the lady was so appreciative she blew a kiss as the bus was pulling away. Your driver made my day."
Our faith in humanity has officially been restored.