12 Things You Don't Know Your Kids Are Up To On Their Summer Holiday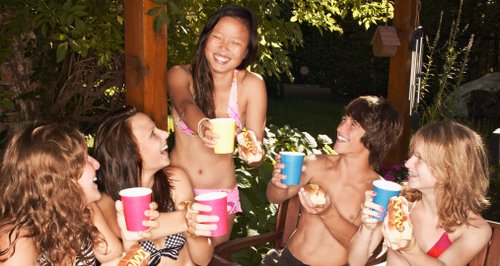 Your kids might like to think you're unaware of what's going on in their lives, but we know you weren't born yesterday.
In reality you're totally clued in to their romantic trials and tribulations and you're DEFINITELY aware if they're even ONE minute late walking through the door at night.
But what about when they go on that first "grown up" holiday? We've got a few home truths to deliver… Just don't tell them we told you!
1. They're TOTALLY making the most of that sweet, sweet freedom!
2. They're absolutely breaking their curfew…
Bedtime? Pfft! What even is that?!
3. They may have forgotten to put the right factor suncream on…
5. And they're maxing out on the ice cream.
All those E-numbers!!!
4. They're letting lose in new and unexpected ways…
6. And trying out those new flirting techniques they've been practising in front of the mirror all year.
7. They've definitely fallen for the love of their life… and it's definitely going to last forever. Definitely.
8. They're probably testing those alcohol limits… and it might get a little messy.
Best you don't witness that one mum.
9. Don't worry too much - they're engaging in some good clean PC fun too!
Wow, beach ball is SO much fun!
10. They're trying out the local delicacies…
11. They're experiencing new cultures...
12. ...But most of all, they'll be secretly over the moon to come home to you when it's all over.