Beatrix Potter Coins Are Coming And They Could Be Worth LOADS!
20 February 2018, 16:21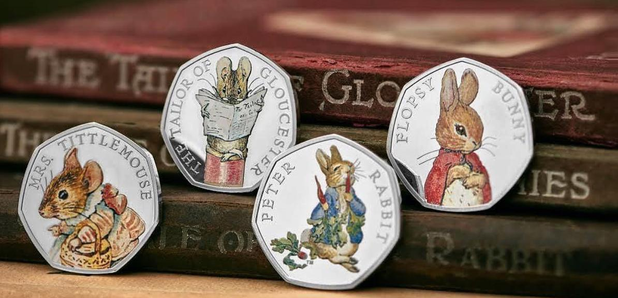 Royal Mint have announced four new 50p Beatrix Potter coins.
A brand new line-up of 50p coins which feature Peter Rabbit, Mrs Tittlemouse and Flopsy Bunny have been announced by Royal Mint.
The Beatrix Potter uncoloured limited collection will enter general circulation later this year to supplement the 2016 and 2017 collection that celebrated the author's 150th anniversary in 2016.
There will also be colourful collectable versions available to buy at either £10 or £60. However, some are likely to be snapped up by collectors and sold at a higher price - as some of the Peter Rabbit coloured coins from 2016 were sold for up to £720 on eBay.
The Peter Rabbit coin is the first to go on sale, and is now available to buy on the Royal Mint website.
Following on will be the Flopsy Bunny coin, Mrs Tittlemouse and a helpful mouse from 'The Tailor of Gloucester'.
The collectables, which were developed in collaboration with Beatrix Potter's original publisher, Frederick Warne & Co. Ltd, have been hand-painted with bold colour in the same style of the original books.
Acting chief executive at The Royal Mint, Anne Jessopp, said: "The Beatrix Potter range has grown in popularity since Peter Rabbit was first introduced onto UK coins in 2016. Since then, Peter Rabbit has been joined by a number of furry friends throughout the years.
"This year we are delighted to present another group of Beatrix's characters, giving them a new lease of life on our specially designed coloured commemorative coins."
Thomas Merrington, at Penguin Ventures, added: "We are thrilled to be working on the third release of Beatrix Potter coins with The Royal Mint.
"The incredible popularity of the series has taken us all by surprise and we are delighted to add more beloved characters to this wonderful collection."
Keep an eye out!
Watch more: