Sainsbury's Praised For Helping Employee With Alzheimer's Keep Her Job
6 March 2018, 12:39 | Updated: 7 March 2018, 10:06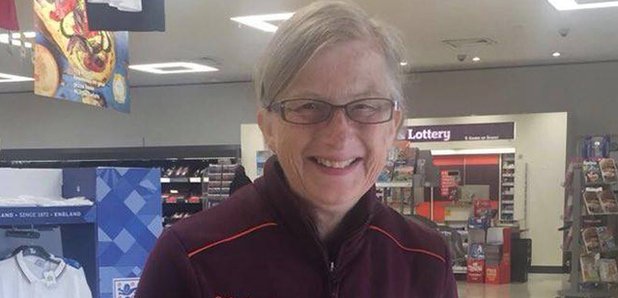 Doron Salomon took to social media to publicly thank the supermarket for their incredible support towards his mother.
After her diagnosis, Doron's mother, Mrs Salomon, was unable to continue her number-based role as a bookkeeper and applied to work as a picker for Sainsbury's back in 2012, which involved collecting items for online deliveries.
Despite her condition worsening, Sainsbury's continued to adapt her job specification in a bid to support her for as long as they could. Doron explained in multiple Tweets exactly what lengths the supermarket went to, including creating a job role that didn't even exist:
For context, Sainsbury's have seen my mum deteriorate to the point that every day for the last year or so she has gone into the store confused, as if she'd never been there before. They have always stood by her, going above and beyond to make sure she's happy and feeling valued.

— Doron Salomon (@DoronSalomon) March 4, 2018
A few of the things Sainsbury's have done: offered regular retraining; changed her hours; had regular welfare meetings with her and my dad; ensured her colleagues were aware of her condition so they were able to help her; and even...

— Doron Salomon (@DoronSalomon) March 4, 2018
...created a role that didn't exist so that there was something in-store she could do despite the fact her job title has never changed from 'picker'. Most recently this has involved giving her the task of cleaning the tote boxes (something staff already did as part of their job).

— Doron Salomon (@DoronSalomon) March 4, 2018
Mrs Solomon worked as a picker for around 6 years before an occupational health assessment ruled that her Alzheimer's was 'advanced', and essentially made her unemployable. However, Sainsbury's continued to keep her as part of their team until her last day earlier this week.
There have been so many times Sainsbury's could have let her go. Instead, every time my dad was called in for a meeting, fearing the worst, it was because they had noticed a decline, were concerned about her and wanted to know what more they could do to help.

— Doron Salomon (@DoronSalomon) March 4, 2018
Nearly 6 months later, yesterday was her last day. Even when they probably should have let her go they didn't until now. My mum was emotional but relieved. Senior management have acted with compassion and handled everything with class and dignity.

— Doron Salomon (@DoronSalomon) March 4, 2018
Doron explains in his Twitter thread that Alzheimer's doesn't just affect memory loss as many people believe, it can also cause issues with disorientation, mood and social skills.
Alzheimer's, for those that aren't aware, is more than just memory loss. To name a few things it impacts: social skills, mood, increases disorientation, exaggerates emotions, can make you aggressive, increases tiredness, loss of language, inability to make decisions etc etc

— Doron Salomon (@DoronSalomon) March 4, 2018
According to the Alzheimer's Society, more than 520,000 people live with the disease. Most people who develop the condition are over the age of 65, but some such as Mrs Solomon can develop early-onset Alzheimer's.
There are many factors that can be linked to the disease - some of which (such as age and genes) cannot be controlled. However changes to lifestyle such as exercising regularly, eating well and not smoking can also potentially keep the illness away.
After Doron's public thank you, Sainsbury's responded in the most fitting way to his heartfelt posts:
No, thank YOU Mrs Salomon. https://t.co/7EwoUAWIx0

— Sainsbury's (@sainsburys) March 5, 2018
Doron is hoping that the story will help to raise awareness of early on-set Alzheimer's and is encouraging people to donate to Alzheimer's Research UK:
Early-onset Alzheimer's isn't common, is hard to get diagnosed and requires a lot of patience and understanding. You can donate to Alzheimer's Research UK (@ARUKnews) here: https://t.co/9YUGnAcwwU

— Doron Salomon (@DoronSalomon) March 4, 2018
WATCH: Simon Thomas Opens Up About His Wife's Short Cancer Battle: