We Know The Secret To The Perfect Online Dating Profile Picture...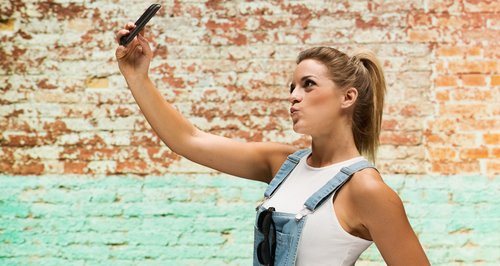 A big wig in the world of online dating has revealed the photo that will get you the most amorous attention...and there's not a trout pout in sight!
Anyone who's ever dipped their toe into the world of online dating will know that it's a minefield of weird duck pouts, bicep shots and general weirdness...
But those of us looking for true love online may need to take the advice of Tinder CEO Sean Rad, who reckons he knows the secret for nailing your online dating profile picture.
According to his research, the perfect picture shows something about your interests, whether that's baking, skiing, motorbiking or watching a box-set of 'Footballer's Wives'!
Model-like poses are also said to be a no-go, with forced poses and bulging biceps proven to turn people off! Group pictures are also annoying to most online daters who don't like the pressure of having to figure out which person they're actually supposed to be checking out.
There's also good news for male pilots and female physical therapist...apparently these are the jobs that grab the attention of online daters above all others!
A study has shown that showcasing certain professions can boost your swipes, likes and hearts and help you on the way to finding love. For men, the top rated jobs are pilot, entrepreneur, firefighter, doctor, TV or radio personality and teacher.
But things are a little different for ladies, with the top jobs favoured by love-seekers listed as physical therapist, interior designer, entrepreneur, PR executive and teacher.
Are you influenced by people's jobs when dating, or is there something more important you look for first?
We'll looks like we'll be re-taking our picture with a radio mic and a tub of Ben & Jerrys then...well that IS our job and our greatest hobby!
Will you be overhauling your online dating pictures?