Women Have Started Smearing Their Lipstick For This Important Reason
24 January 2018, 11:34 | Updated: 24 January 2018, 11:47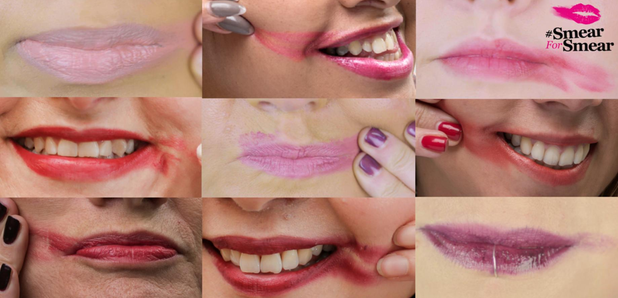 These messy lipstick selfies have a crucial message behind them.
Every so often a new viral selfie trend comes around.
The latest viral selfie sensation has women smearing their lipsticks, but this time its for a fantastic cause.
The #smearforsmear campaign has women smudging their lipstick to raise awareness of the importance of getting a smear test.
Cervical cancer is the most common cancer found in women under the age of 35 and the importance of smear tests so you can catch it early is one that needs to be taken more seriously.
A simple smear test at your GP surgery every couple of years can make a huge difference and catch any problems in their early stages but many women put off these vital appointments, in the most part due to embarrassment.
The #smearforsmear campaign wants to remind women that we are all in this together and these simple tests are worth a minor moment of blushing compared to the reality of cancer.
Many celebrities have also supported the campaign to spread the awareness even further such as Scarlett Moffatt:
Today (ironically) I had my smear at bishop Auckland general hospital, I go to these lovely ladies every 6 month!!Please ladies go and have a smear, it doesn't hurt and is vital!! #SmearForSmear

— Scarlett Moffatt (@ScarlettMoffatt) January 22, 2018
You only need them every 3 years ladies if everything is good, it is a little bit discomfort for literally 30 seconds but can save your life! Book your smear today if you haven't already #SmearForSmear

— Scarlett Moffatt (@ScarlettMoffatt) January 22, 2018
And the proof is in the pudding - cancer charity Jo's Trust, who are the masterminds of the campaign revealed that smear tests prevent 75% of cervical cancers.
Women are eligible for smear tests between the ages of 25-64 - contact your GP to book yours.