These Stories of Love, Generosity and Human Kindness Prevailed In Manchester
24 May 2017, 10:53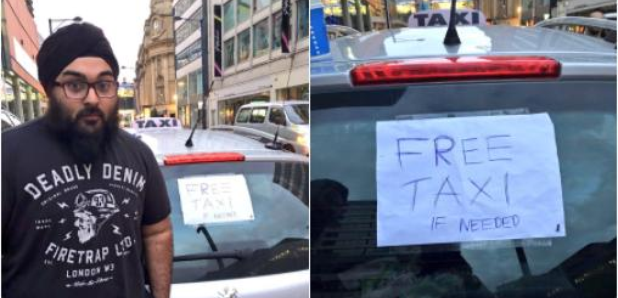 From brave homeless heroes to a nationwide JustGiving page set up to help the victims and a blood banks being full within hours, stories of humanity, generosity and loving acts pushed through the sombre undertones of Manchester.
Photo: Harjinder S Kukreja
When faced with terror and mayhem, Manchester rose to the height of humanity and galvanised as a community in the most INCREDIBLE response to the atrocity.
Ordinary people have made a massive difference and reacted with kindness and bravery by helping those in need in any way they can.
This homeless man describes hearing a loud bang and running away only to realise what the bang was and that people needed help. It was then that he and other homeless people ran to help. He describes candidly how he helped the victims, many of whom were children who had been pelted with nails.
- Read More: JustGiving -donate to support the Victims of the Manchester Attack
Local residents offered stranded fans places to stay as people across the northern city opened up their homes to those in need. The news emerged via the hashtag #roomsformanchester, which compassionate Manchester residents used to reach out to victims of the incopmprehensible attack.
#Manchester you are a beautiful city. It's amazing to see so many offers of beds and sofa's in a time of need. Truly great to see.

— Jason Scales (@scalesjason) 23 May 2017
Taxi drivers across the city gave free lifts to helpless victims and a homeless man rushed to help the wounded just minutes after the blast.
Free taxis. #roomsformanchester. Long queues at Blood Donor banks. The reaction in #Manchester speaks volumes, love over hate.
— LJ (@lauracjayy) 23 May 2017The Manchester Sikh community handed out free food at a vigil for the victims to those affected or helping in the aftermath of the attack.
... and the Manchester Sikh community can be spotted handing out free food & drinks to those at the vigil for #ManchesterBombing victims pic.twitter.com/UOvHefcUwy

— Harjinder S Kukreja (@SinghLions) 23 May 2017
Long queues formed outside the city's blood donation centre. until the NHS said hospitals had enough blood supplies to treat patients including attack victims.
Mancunians across the county worked together in a display of unity and defiance in the face of terror and these are the stories that prevail and will be remembered for all time.