Customers Furious As This Shop DOUBLES Its Prices During Storm Emma
5 March 2018, 13:20 | Updated: 5 March 2018, 13:28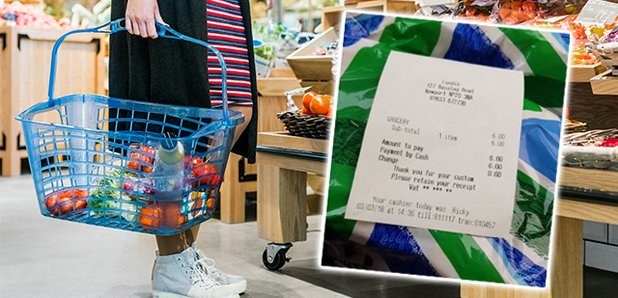 Storm Emma, combined with The Beast From The East, meant that locals found it difficult to get to their nearby shops, and when they did, there was often only limited supply.
Locals in Newport, Wales, were staggered at their local Londis shop that decided to hike up the prices and seemingly capitalise on their sales during the bad spell.
After one nearby resident was charged a huge £6 just for two loaves of bread, the local councillor Stephen Marshall decided to publicly shame the shop via his Twitter page:
@myLondis please advise - constituent of mine, as per the pic below noting buying 2 loaves of bread at £3 each. This is a huge issue and using the weather conditions to abuse customers in terms of prices and trust of those buying the essentials. #shocked pic.twitter.com/czyvzJgNIg

— Stephen Marshall #FBPE (@StephenMNewport) March 3, 2018
He directed his tweet at Londis, asking the company to justify their actions but so far they have refrained from replying.
However, other Newport locals that saw the image voiced how disgusted they were at the lack of humanity shown by the shop:
Shocking, I hope that any boycott of the shop leads to the removal of the franchise. A total disgrace to take advantage of the community in this way. His excuse that he stayed open and was charge extra by his suppliers, Rubbish. SHAME ON HIM

— Jimmy James Jones (@JtechJ) March 5, 2018
My advise would be to buy two identical loaves from a more reputable shop and take them back to @myLondis for a £6 refund

— Martin Giles (@Mj_Gilo) March 4, 2018
Newport was hit with a lot of snow during the cold snap last week, and some local businesses chose to help rather than hinder by giving out food and drink to those who were stranded.
As the bad weather is beginning to subside, many supermarkets and convenience stores are now beginning to resume normal working hours and increase their stock levels once more.

Credit: PA Images
Storm Emma and The Beast From The East left many people without power, and commuters faced lengthy delays as they tried to go about their daily duties.
WATCH! Nurse Gets Holiday From This Morning After Trekking 10 Miles To Work: