This Teacher is complete goals after using memes to mark student's work
20 October 2018, 11:13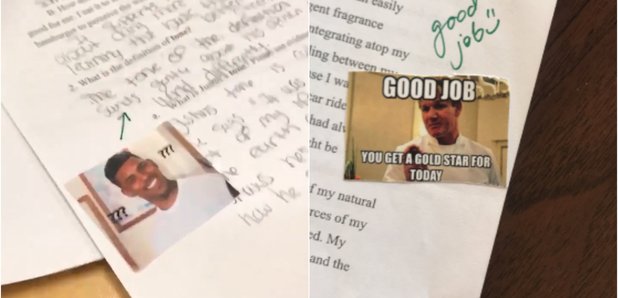 We wonder what Gordon Ramsey would say about that 'F'.
Step aside A-F grades, there's a new marker in town...memes!
An American high-school teacher has given the school grading system a well needed makeover and the internet is loving it.
Ainee Fatima, a 27-year-old English and Media studies teacher from Illinois has made receiving your exam results that little bit more fun by using meme stickers to mark her pupils papers.
Posting a video of herself grading a student's paper with the popular confused Nick Young meme, Ainee who created the stickers herself wrote: "I love grading with my new stickers."
I love grading with my new stickers! pic.twitter.com/4K66qQblSJ

— ainee f. (@axfxq) October 17, 2018
The young teacher even has Gordon Ramsey stickers on hand to tell her pupils they did a 'Good Job'.
Don't worry, I did positive memes too! pic.twitter.com/rTfHCGKQwJ

— ainee f. (@axfxq) October 18, 2018
After just a day of sharing her fun classroom creations, Ainee's meme stickers went viral with some admirers labelling her the ultimate #TeachersGoals.
If I ever get a class with older students I'm doing this. Great strategy to connect with students and do your job!

— Anthony S. Hughes (@shodamolaJR) October 18, 2018
this upcoming generation don't know how lucky they are to have lit ass millennials as teachers lol https://t.co/qKdWQ7tqlP

— james (@phan1om_) October 18, 2018
lmao i saw this on your story and was sad that I didn't get to screen record it. I'm glad that it ended up on here bc these are the #teachergoals that I hope people strive for tbh LOLL https://t.co/Ywa3PRlspZ

— Yusra (@moroccanwitchh) October 18, 2018
Create a classroom culture that resonates with students and excellence shows itself. https://t.co/U0qdlS5ndI

— Laiza (Lay-sa) (@lzixxaa) October 18, 2018
Ainee's meme stickers even encouraged other teachers to come forward with their own pop culture inventions for the classroom.
Love it!!! I'm a 12th grade counselor and this is the sign on my door lol. The kids love it and it's a great way to connect with them. Also it's probably more for my own entertainment than theirs hahaha. pic.twitter.com/9qiOfRCQTB

— La Dominicana (@mami_rose) October 18, 2018
@daddydaniel28 literally made these a couple weeks ago and now 3 people have shown me this todaypic.twitter.com/FCCIY1lWg6

— Mrs. Tabeche (@MTabeche) October 18, 2018
I've always used memes in the classroom (above the whiteboard). It keeps students interested and yes, I also sold pop, juice, water, Gatorades and teas for my yearbook fundraiser. #CoolTeacher pic.twitter.com/yazoWzWfj5

— Angelica Garcia (@MrzTeacherLady) October 18, 2018
Speaking with Metro.co.uk on why she started using memes to grade her papers, she said: "I started using memes because of two reasons, it was kind of appropriate for my class which is a Media Studies English class and we study social media, the impact of it, music, movies, politics and pop culture so the meme sharing has been a regular part of my classroom culture for my students.
"Second, I wanted to take the pressure off negative grades and give the students a laugh."
And the award for the coolest teacher goes to....