Modelling Gave This Teenage Cancer Sufferer Her Confidence Back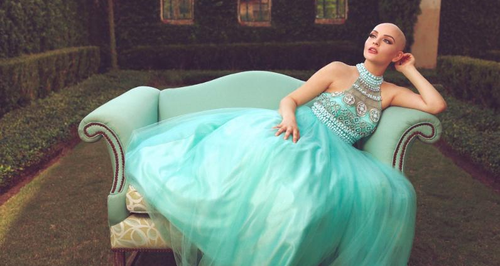 This teenage cancer sufferer didn't let her illness define her in these stunning and inspirational photos...
In February, 17 year old Andrea Salazar was sadly diagnosed with cancer.
She had stage 2 nodular sclerosis Hodgkin lymphoma which came to light after she discovered a lump on her neck.
With such a diagnosis, Andrea had to miss lots of school to attend hospital appointments which must have been devastating.
Her supportive mum suggested that she make the most of her free time away from school to practice her favourite hobby, modelling.
Not sleeping because I refuse to take off my makeup. pic.twitter.com/63DuSDQEQk

— Andrea Sierra (@sierraandrea99) May 25, 2016
When Andrea started to lose her hair from her chemotherapy treatment, her mother got in touch with photographer Gerardo Garmendia who was keen to work with her daughter on a photoshoot.
At first, Andrea insisted on doing the photoshoot in a wig but then eventually became more comfortable and felt that she shouldn't be ashamed of her appearance.
The results of the photoshoot are absolutely PHENOMENAL. Andrea looks truly stunning...
Cancer doesn't stop me me from being a princess. pic.twitter.com/39RaDuVwkH

— Andrea Sierra (@sierraandrea99) August 10, 2016
What a natural beauty and an inspiration for others who may have had their confidence knocked by their illness.