The Benefits Of Bajan Cooking: Exploring These Caribbean Flavours Could Improve Your Health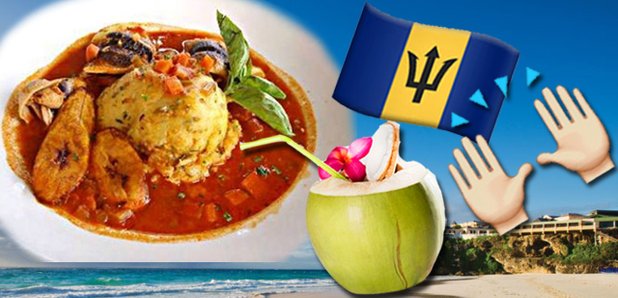 Many of the foods we discovered were super-foods rich in antioxidants, vitamins and healthy fats linked with lowering cholesterol and even preventing some cancers.
When you think of Barbados, you probably think of sun, sea and Rihanna.
Who could blame you? Each coastline stretching across the coral shores of this Eastern Caribbean island could quite easily have been lifted from the packaging of a Bounty chocolate bar, and with temperatures soaring up to 85 degrees F it's long been a favourite for sunseekers.
Credit: The Crane Hotel, Barbados
However, there's so much more to this rugged island than meets the eye and while it might be small in size it certainly packs a punch - and we're not just talking about its notorious rum cocktails!
A clash of cultures is strongly represented throughout the island, from the British colonial architecture in the Georgian and Victorian buildings to the brightly coloured wooden chattel homes scattered in the hills, which serve a reminder of the island's West African heritage.
Credit: Getty
It's Barbados' colourful history that has garnered it's strong connection to food, with both cultures culminating in its very own cuisine.
Just walk through the capital city of Bridgetown and you'll find Bajan dishes such as pigtails (yep, you read that right!) and Macaroni Pie on the menu, while their national dish flying fish can be found served up with chips, instead of its traditional side Cou Cou, in a nod to the iconic English staple.
The 8th Annual Food and Rum Festival, which took place in November, upheld the island's position as the food capital of the Caribbean, with the four-day event playing host to renowned chefs who showcased different flavours found on the island through a number of gastronomical experiences.
Just some of the notable names on the roster included Canadian-Caribbean Chef Chris De La Rosa who put his unique spin on traditional cuisine with his Gourmet Dinner Safari at the luxury Crane Hotel, while British heavyweight Tom Aikens (proud owner of two Michelin stars) incorporated local ingredients into his signature Anglo-Franco dishes at the famed Tides restaurant.
With 2018 officially tipped as the island's 'Year of Culinary Experiences', there's a lot that we can learn from Bajan cuisine to ensure we have a healthy start to the New Year. Many of the foods we discovered were super-foods rich in antioxidants, vitamins and healthy fats linked with lowering cholesterol and even preventing some cancers.
We've picked out just some of the exotic ingredients and flavours we'll be adopting.
OKRA
Originally from Africa, Okra is a flowering plant from the mallow family. It's slimy texture when cooked has made it a go-to thickening agent for stews and is used in a variety of Bajan dishes; most notably, Cou Cou, in which the vegetable is heated with cornmeal, water and seasoning and served alongside fish.
While it's taste is divisive, there's no debate about the overriding health benefits, as Okra is rich in potassium, vitamin B, folic acid and calcium. The low-calorie food has been said to lower cholesterol and help manage blood sugar levels.
Credit: Getty
SORREL
Sorrel derives from the Hibiscus leaves which are bought dried before boiling them down to make a cold drink. Traditionally, the tasty Caribbean drink is blended with spices such as cinnamon and ginger (with a splash of lime!) but it serves purpose way beyond being a refreshing beverage.
The plant contains immune-boosting properties thanks to its high concentration of vitamin C, which is known to boost the white blood cell count in your body to help fight infection.
What's more the iron-rich plant increases oxygen levels throughout the body which helps to increase energy levels, while its antioxidants make it perfect for fighting unwanted signs of ageing.
Credit: Getty
COCONUT
This miracle food doesn't need an introduction, but it's a staple flavour in Caribbean cooking. Whether you're using it's oil to cook with, it's cream to flavour dishes such as rice 'n' peas or simply slicing it open and drinking it's water - the health benefits of coconuts are endless!
While it might be high in saturated fat, the fatty acids found in coconut oil are metabolised differently so they go straight to the liver from the digestive tract, where they are used as a quick source of energy, helping you to burn MORE calories.
Couple that with coconut's appetite suppressing properties and that's one more win in our ongoing battle to lose some inches.
Credit: Getty
BREADFRUIT
This huge prickly fruit can grow up to 80 pounds in weight and is as much of a staple in the West Indies as potatoes are in the U.K.
Weirdly, the flesh of the of the fruit tastes similar to potatoes and is traditionally baked but can also be fried or broiled.
Breadfruit is a rich source of energy and also contains significantly high amounts of fibre which contribute to the maintenance of the digestive system, and is linked to preventing colon cancer.
Credit: Getty
FLYING FISH
Nicknamed 'the land of flying fish', the fish is commonly found in the warm waters that surround Barbados and is part of their national dish Cou Cou and Flying Fish where it is usually served steamed.
The meaty white fish, like most seafood, is low in saturated fats and high in omega-3 which can both protect the heart from disease and lower the amount of cholesterol in the blood, not to mention feeding the brain with the essential fats it needs to keep the clogs ticking.
Credit: Visit Barbados/Instagram
For more information on planning a trip to Barbados head over to https://www.visitbarbados.org