Tired Of Seeing This Coat? Internet Mocks THIS Popular High Street Jacket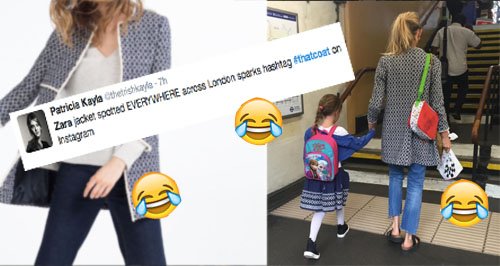 A coat costing just £69.99 has become a viral sensation.
As winter draws closer, fashion-seekers are getting ready to wrapping up in the season's hottest coats, and it seems that Zara is already leading the pack when it comes to this season's fashion staple.
Chances are, if you've been to pick the kids up from school, grabbed a drink at a trendy bar or walked to your local mall then you will probably have seen it modelled on a trendy yummy mummy.
Well, this particular blue and white printed coat, priced at £69.99, has become a viral sensation and spawned it's very own hashtag after being spotted on a number of women across the country.
It's so popular, a tongue-in-cheek Instagram account has even been set up using the hashtag #thatcoat, to document the numerous women who've been spotted wearing it.
HILARIOUS!
The account That Coat comes with the description: "#thatcoat @zara You know you've seen it please send your pics if you'd like to be featured where it all started."
The genius account was set up by Londoner Alice Frances, who first noticed high street staple at the Chelsea Flower Show.
She then started spotting it everywhere, and called it an 'epidemic'.
Before you know it, the account had racked up over 400 followers with users all sending in their latest sightings of the fashion fave.
Have you seen it? Or even better... Do you own it?