The Five Minute Work Outs You Can Do Before Work!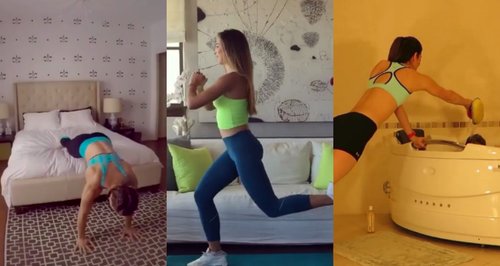 Staying at home is no longer an excuse to not exercise!
It's the summer months now and despite all of those promises that we'd be ready, we're not. It turns out that making time for the gym just doesn't always fit in with our busy lives.
Fear not though. With these short high intensity workout regimes that you can do at home, you get to tone up that tummy without even leaving the house!
Thanks to the Instagram account home.exercises, you can even see how these exercises are suppose to be done.
Remember, exercise releases endorphins and endorphins make you happy. Exercising early in the day, perhaps before work, can set you up for a positive day ahead.
Glute workout
Tone your bottom and your legs using this workout by Carly Newson. No extra equipment is required, just sufficient floor space!
Total body workout using a chair
Not having the right equipment is no longer an excuse for not exercising at home! Using a chair, Katie Austin advises this routine to tone up.
Who knew that a chair isn't just useful for sitting on?!
Use your bed
Your bed isn't just useful for sleeping in and making in the morning! Use it as a step up to tone up your calf muscles and thighs. If you lie on the bed with your hands on the floor, you can bend your arms at the elbow to tone your tummy and arms by doing press ups. No snoozing though okay?
Tone your tummy using a wall
Climb your feet up the wall so that your hands are supporting your body weight and try these leg workouts which will also tone your tummy.
Make bath time workout time too.
We're always moaning that we don't have time to exercise, what with having a job and looking after the kids. But there are no rules saying that the time you spend with the children can't be your time too. Multitask and utilise bath time to squeeze in a workout.
Exercise doesn't have to be a solo activity!
Make use of your surroundings and rope in an extra pair of hands. Dinner time is no excuse not to exercise!
And if you're bored of making your bed...
We're joking of course, this is just a bit of fun! We don't expect you to be able to do that and certainly don't try it at home.