This Is The World's Biggest-Ever Land Art Project Made From Sand!
5 October 2017, 10:04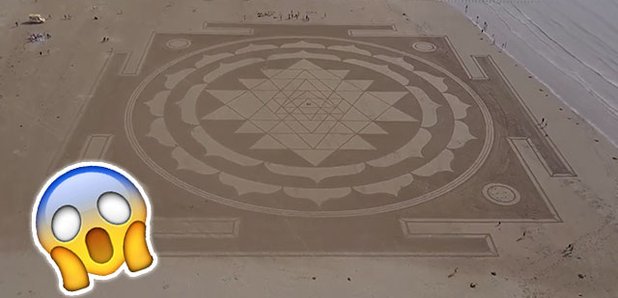 They look like paintings, but they're made from sand!
A bunch of talented sand artists have created the world's biggest land art project by carving intricate Hindu symbols into beaches across the globe.
It all began in September, when artist Julian Richardson carved a 400ft-wide mosaic into Brean beach in Somerset. In just seven hours Julian and his six helpers created the huge figure of 'Sri Yantra', an ancient symbol representing balance between opposing forces.
Similar geometric designs have since been created by a further 15 artists in countries such as Australia, France, New Zealand and the US - where ceremonies can be held in the middle of the pattern for everything from meditation and yoga to dance and prayers.
The Sri Yantra Land Art Project promotes global peace by helping to "create a harmonising affect and serve humanity in these troubling times".
Project coordinator Khi Deva said: "In these troubling times of great disturbance and change happening around the planet, the Sri Yantra symbolises the balance needed to restore right relationship with the planet."
Watch More: