These unusual remedies could cure your hay fever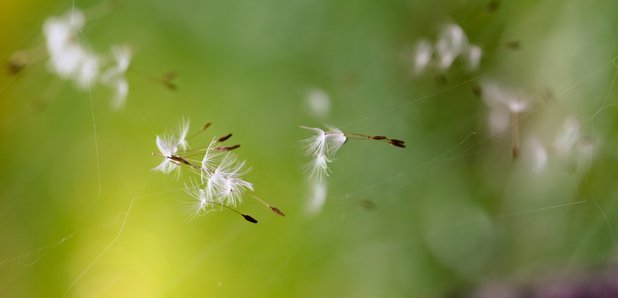 Sick of spending loads in the pharmacy? These natural remedies could be just what you are after.
It only takes one trip to the local pharmacy to realise just how many hay fever medicines there are out there.
Nasal sprays, eye drops, tablets...the list goes on, but have you ever tried opting for a more natural remedy to rid your sneezes?
There are five all natural ways you can lessen - or even rid - your pollen allergies this summer and they're definitely worth a go.
1. Bee pollen tablets
It seems like a strange thought to consume something you're potentially allergic to, but this could do you the world of good when your hay fever is rife.
Holland & Barrett Senior Nutritionist Donia Hilal says:
"Bee Pollen is produced by young bees when they land on a flower. This unique compound contains a number of nutrients, essential fatty acids, and flavonoids; thus it is thought to be helpful for allergies, as it may help to strengthen the immune system and reduce inflammation, therefore potentially combatting your hay fever symptoms.
"It is estimated that a small percentage of the population are allergic to bee pollen so it is recommended to take only a small amount to begin with and observe symptoms of potential allergies."
You can buy them online here.
2. Pineapples
Yep, eating pineapples can really help your hay fever! They contain an enzyme that has been traditionally used to aid inflammation in the sinuses which is where many of the problems caused by hay fever lie.
If you don't like pineapples, fear not! You can buy the enzyme, Bromelain, in tablet form from health shops such as Holland & Barrett.
Buy them online here.
3. Pycnogenol
This natural plant extract is particularly good for easing the symptoms of birch tree allergies. A recent blind study found that taking this extract naturally relieves eye and nasal symptoms of hay fever.
This can be bought in capsules which can be swallowed whole or broken and decanted into hot water to drink as tea.
Buy them online here.
4. Quercetin
Some plant based foods such as lentils and quinoa contain natural antihistamine properties that help with allergies such as hay fever.
You can also find this in teas such as nettle tea or rooibos or even easier, get some coated caplets.
But them online here.
5. Avoid drinking dairy
Nutritionist Emily Rollason says: "Whilst there are no scientific links between intake of dairy and mucous production, many people feel that milk increases mucous production or thickens mucous. If you feel that dairy exacerbates your hay fever, a dairy free alternative such as oat or nut milk may be an option."

Oatly and Provamel are great dairy free milk solutions.