This bride fired her bridesmaid in a savage email
31 July 2018, 12:01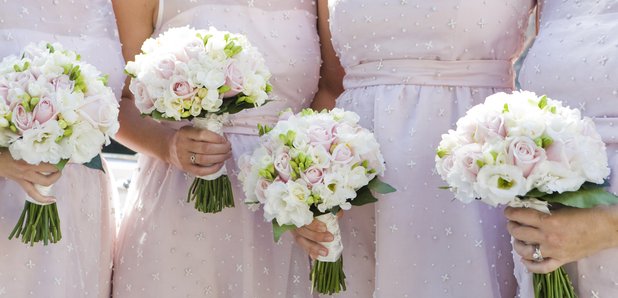 Is it ever right to fire one of your bridesmaids? Let alone via email!
Being chosen as a bridesmaid is a show of love from a friend that everyone hopes they recieve one day.
To choose someone as a bridesmaid shows that you trust that person wholeheartedly and want them to be a special part of your big day.
So imagine how it would feel to be fired from bridesmaid duties.
This is something that Dartmouth student Courtney Duffy experienced, and what's worst, the bad news was delivered by the bride via email.
She took to Twitter to share the savage firing whilst tweeting US airline Jet Blue asking for a refund for the flights she had already purchased to attend the wedding.
Here's what it says...
"Hey!
I'm so glad to hear you booked flights! I'm sorry classes are taking such a long time to sort out. I know how hard you're working to be here for the wedding and it means so much to us!
I have a massive favor to ask you, though — and this is one of the hardest things I've ever had to ask anyone — but I need to ask you to relinquish your duties as a bridesmaid.
Come to the wedding, have a fabulous time, and travel in the time you need to without stressing about anything else!
When I asked you, I was really hoping that you could be a part of this whole thing — the bachelorette trip, at least the weekend, prep and the full night of the event (a Sunday night flight means you won't even be able to be there for the whole wedding)... the whirlwind nature of what your travel has become just won't work with the duties as a party member. I'm so, so sorry!!
Please don't feel you're letting me down, I am asking you to do this. I love you and value your friendship so much and I fully understand the need for you to prioritize school! I want you to be able to focus on that without also worrying about any extra wedding worries.
And I know this is incredibly awkward, but there is a possibility that I might be able to have someone else step into the role and assume the duties. Could you please mail the jumpsuit to me? I'll Venmo you the postage and the cost of the jumpsuit — just let me know the total.
I know everyone is looking forward to seeing you there! I know I am!
And if you'd like to chat on the phone, let me know! I promise we're totally cool!
All my love, Alex"
It's not often that you hear of a bridesmaid being fired | Picture: Getty
Despite the bride insisting that she still wants Courtney to attend and have a 'fabulous time', her pleas for a refund from Jet Blue suggest she is not too enthusiastic about attending anymore.
JetBlue revealed that they have offered to wave Courtney's cancellation fee and have even offered her and Alex a trip away together in future if their friendship gets reconciled.
It doesn't sound like things will smooth themselves over soon though if Courtney's latest tweets are anything to go by...
Wow, did not expect this response - clearly the situation resonated. Thanks @jetblue for providing the refund I was hoping for, and thanks to everyone for chiming in with well wishes, humor, and even devil's advocacy.

— Courtney Duffy (@cduffy90) July 28, 2018
Weddings have gotten totally out of control - this is about more than just an email. I'm hoping this thread reminds future lovebirds and bridal parties to keep their feet on the ground :)

— Courtney Duffy (@cduffy90) July 28, 2018
Do you think this bride did the right thing firing her bridesmaid?