This Man Quit His Job To Become A Banana Artist!
8 June 2017, 12:08 | Updated: 9 June 2017, 15:59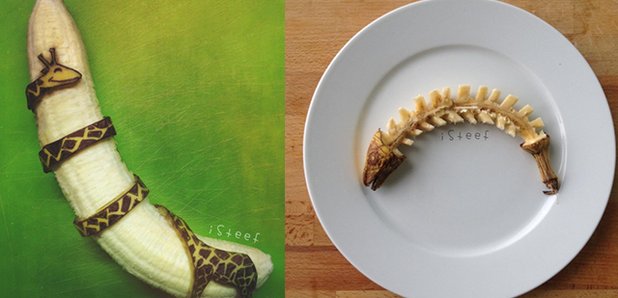 Thirty-nine year old Stephen Brusche from Rotterdam is the world's only full time banana artist.
You've probably heard of people quitting their jobs to follow their passions whether that be acting, singing or travelling. But have you ever heard of someone becoming a full time banana artist?
You'd be forgiven for not realising such a thing existed, and they didn't until Stephen Brusche came along.
The 39-year-old Rotterdam based artist creates incredible works of art on the peel of a banana and it is truly mind blowing stuff.
He creates his 3D sketches using only a banana and a regular ballpoint pen. He told Mashable: "I strategically cut away pieces of the peel to give it a more 3D look and feel. To hold pieces of the peel up I stick toothpicks in the banana behind the peel. Sometimes I also use paint."
He then takes a picture of the image and posts it on his Instagram account.
But what first gave him the idea for making these crazy fruit based doodles?
In an interview with food website Munchies he said: "A combination of things made me tumble into the world of banana art. It happened about six years ago. My wife had been pushing me to use Instagram for while, saying it would be great for promoting my illustrations and comics I've been doing in my spare time.
And just after lunchtime, I wanted to experiment a bit with the app, try out the filters and such. But since I was at the office, I didn't really had anything fun or interesting to photograph. I then noticed I still had a banana left from lunch and figured it would make a fun picture if I just drew a little happy face on it. Having discovered how pleasant it actually is to draw on a banana—there is just something about how smooth the ballpoint pen flows on the structure of the banana peel—I made another 'fruitdoodle', as I like to call them.
After that, I just kinda challenged myself to see what else I could come up with, and I never stopped since. I noticed that I was getting more likes and attention for my drawings on bananas than my other stuff. So I gradually started to focus more and more on banana art."
He has certainly garnered himself a cult following on the social media site with a whopping 52.8k followers and thousands of likes on each of his uploads.
But Stephen isn't a strictly banana guy! He admits he's experimented making art with apples, pears, oranges, and loads of other vegetables hence why he coined the term 'fruitdoodles' to describe them not 'bananadoodles'.
"I want to keep my options open".