This Toddler Delivering Her Baby Brother Is The Cutest Thing You'll See Today
10 January 2018, 12:04 | Updated: 10 January 2018, 12:31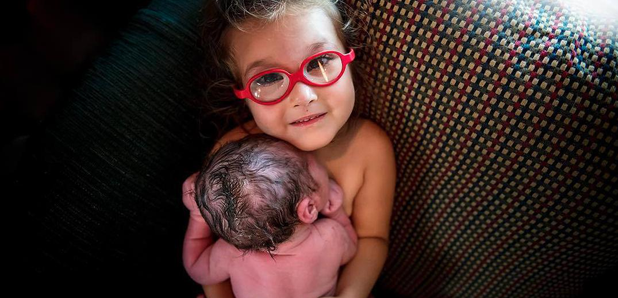 The images have now gone viral online with more than 12,000 reactions.
Having young children present at birth can often be a taboo subject. Three-year-old, Hunter however, has turned all that on it's head, proving to be extremely helpful, the moment that her mum, Rebecca Joseloff went into labour.
Rebecca, from Patchogue, New York, had her daughter well prepped for her home birth by getting her to watch birthing videos and learning anatomy in proper terms.
When the time came, Hunter got stuck in with the delivery and even made skin-to-skin contact during the postpartum process.
Rebecca told Cafe Mom: "Kids perceive things in the way adults react to it, so if birth is not made out to be scary or traumatic or what not, kids are not going to think that it is,"
She went on to say that Hunter's presence at the birth will build an "awesome connection" between her and her brother "for the rest of their lives."
The birth photographer, Nicole Lahey told 'Love What Matters': "She didn't cower when her mother roared her brother out and she didn't get nervous or concerned about it, at all,"
"She asked questions, she played with her babies, she ate snacks, and she kept us all entertained with her adorableness."
"She was in heaven, and didn't want to give him back to his mum. Every child is different and every parent-child relationship is different."
She added: "I feel that siblings who watch their little sibling's birth are much more connected and compassionate with one another.
"If parents really want to have their other children present at the birth, the best thing to do is prepare them with videos, talk about every aspect of birth, and speak about birth in a positive way."
Congrats to the Joesloff family.
Watch more: