The Internet Is Fangirling Over This Girl's Magical Rainbow Hair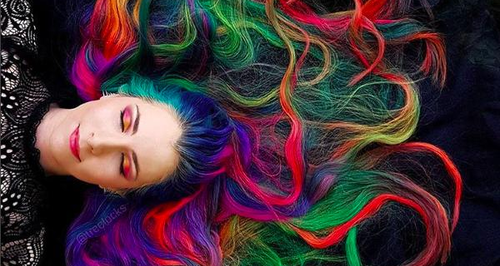 Oh Rapunzel, Rapunzel, let down your hair!
A girl with THREE FOOT LONG hair has taken the internet by storm with her multicoloured tresses.
Trisha Reibiet has gained over six thousand followers on Instagram after mesmerising the internet with her long hair which has been dyed in multiple shades over the last seven years.
Surprisingly there is not a hair extension in sight even though her locks haven't had a "proper haircut" since 2004 which was when she last had a style that was above the shoulders.
At one point the real-life Rapunzel's hair was FOUR feet long and sat just four inches from the floor, that is until a month ago when she had to chop off a foot of hair to help make her mornings easier.
Trisha told Australian Mail Online: "It has cut down on the amount of time it takes me to do my hair in the mornings, so I get a few more minutes of sleep before work."
Cutting off a foot of hair might seem like a lot, but for Trisha the hefty trim was a mere snip as her locks still sit between her thighs!
She still has her eyes set on a growing her hair out past her calves too, although she suspects that her current length is probably as far as her hair will grow.
So how does the 31-year-old blogger achieve multicoloured locks on that never-ending head of hair?
Trisha reveals a typical bleaching session takes HOURS.
"I'm a DIY-er and get quite a bit of help from my bestie Daniel James," she told Australian Mail Online. "Every three months, they touch up the new hair that's grown at the top of her head. Bleaching it takes a couple of hours, followed by at least three to five hours (depending on whether she has help) to add in colour."
Read more: Are You Brave Enough To try This New Watermelon Hair?
She'll then maintain each new colour scheme for about a month before starting to let it fade.
"When I fade my colors out, I start doing coconut oil soaks to put moisture back into my hair as I begin using clarifying shampoo. Since my hair is pretty old, I do get split ends so I like to go through it occasionally to cut off any that I find."
Trisha's hair might look like a lot of work but she insists in spite of dyeing her hair it's actually very low maintenance and she uses as little heat as possible to stop split ends.
"Maintenance-wise, I actually don't do too much with my hair," she explained.
"Once I began dyeing my hair, I stopped using heat on my hair — very rarely do I use a hairdryer, and I definitely don't use a straightener — and I also avoid using products like hairspray and gel in order to keep my hair in the best condition I can."
Wow! We've never seen anything so beautiful!