Are These The Ugliest Sandals EVER? UGG Team Up With Teva To Create THIS Footwear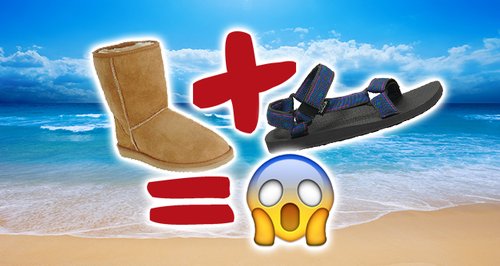 You thought UGGs were controversial. You wait until you see these...
UGG Australia first surprised us with the fact that the fur lined shoes were actually designed to be worn during the summer, particularly for surfers who might feel the chill after catching some waves. However, they're still our favourite winter warmer...
So you'll understand why it came as a shock to us when we found out that the fashionable boot brand has teamed up with Teva, who make practical sandals for travellers, to produce, well, quite possibly a pair of the ugliest shoes ever made.
We honestly don't mean to be rude but, what on earth are these?

Picture | Deckers
According to a press statement by Decker Brands - the parent company that owns both Teva and UGG - the new shoes take "cues from their iconic footwear heritage".
"The Teva x UGG collaboration allows us to celebrate expression of freedom while showcasing the innovation that is infused into each of our products," says Wendy Yang, President of the Performance Lifestyle Group at Deckers Brands.

Picture | Deckers
"With this collaboration, we wanted to fuse the most iconic and loved elements from both brands and deliver them in a contemporary collection for the modern consumer."
While there is no denying that the shoes take inspiration from both brands, we're failing to see the point of wanting fur-lined sandals. Doesn't that defeat the object of keeping your feet cool in the heat?

Picture | Deckers
Nevertheless, the Teva x UGG collection is available for a limited time only and come in a range of colours, including Black Iris, Dark Gull Grey, White, Navy and Burnt Olive.
And if you just can't wait to get your hands on a pair, they could be yours for a mere £135-£173, depending on what calf height you go for...
Between these and the Crocs on the catwalk at London Fashion Week, we're left asking: what has happened to fashion?!