Visually Impaired Man With Phobia Of Dogs Gets An Unusual Furry Helper
6 February 2018, 11:14 | Updated: 6 February 2018, 11:28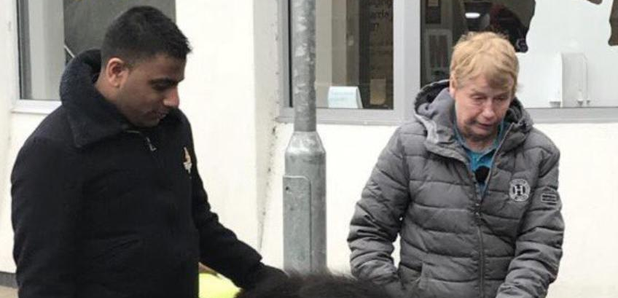 Mohammed Salim Patel is visually impaired and has a fear of dogs, but luckily there's another animal that can be trained to help.
In a UK first, Mohammed Salim Patel is being given a guide horse to help aid his movements because he is scared of dogs.
Digby is an eight month old American Miniature and is currently being trained to help Mohammed Salim Patel with his day to day life.
"he might wee in Jules Holland" overheard at Mediacity as Digby - UK's 1st #guidehorse came to visit - not a line from #W1A @BBCNWT @Sal9594 pic.twitter.com/yzSf67m6DT

— Annabel Tiffin (@annabelvtiffin) February 5, 2018
Decked out in an official tabard with "guide horse in training" blazoned across the side, Digby stands at two foot tall and has been seen clip-clopping across the streets of Blackburn as he gets used to living in the city.
Mohammed explained that due to a condition called Rentinitis Pigmentosa he has lost a lot of his eyesight and now needs aid. He told the The Lancashire Telegraph: "I have a condition where I lost my vision and I have come across lots of people who have guide dogs. But I have a big phobia of dogs that I was not able to work out and it was good when I heard about horses being trained."
I wouldn't normally take pictures of a new colleague's first day at work but have made an exception for Digby the guide horse. #notW1A pic.twitter.com/nmumtTt6KP

— John Pinto (@John_Pinto) February 5, 2018
Mohammed is fully aware that by being accompanied by a guide horse is bound to lead to a lot of attention. He said: "I will have to give myself an extra hour to try to get around my daily routine as people will all want to come and see it and touch it."
Guide horses are already used as visual aids in America, with experts revealing that their long life spans could see them staying with the same person up to three times as long as a dog. It is not yet known if a guide horse will be given the same access as a guide dog.
With Digby immersed in training, he and Mohammed won't become a partnership for another couple of years.