This Couple Accidentally Proposed At The Same Time And It's INCREDIBLE
15 February 2018, 15:31 | Updated: 15 February 2018, 15:36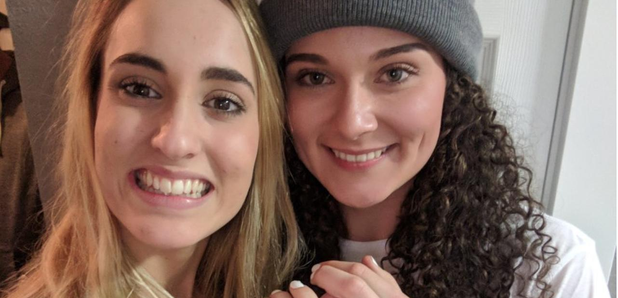 Berkley and Tori both had the same idea to propose to the other on the same night, and the moment is one they'll never forget!
They say the more time you spend with your significant other, the more you start to mimic their thoughts, feelings and actions.
And that's exactly what happened to long-term lovers Tori Monaco and Berkley Cade.
The couple accidentally popped the question at the same time, leaving each other totally stunned at the cute coincidence.
Berkley was in the middle of working a romantic setting through a game of Pictionary by asking her significant other to guess what she was drawing on a whiteboard.
However, when she turned round to prompt Tori into guessing, she saw her girlfriend on bended knee with a sparkly diamond in one hand.
I PLANNED A PROPOSAL FOR MONTHS.. little did I know she planned one too! #doubleproposal #lgbt pic.twitter.com/hWrIaFn3Dl

— Tori (@Toorriiiiiiiiii) February 11, 2018
The silence that followed was the start of an emotional realisation that the loved-up pair had actually chosen the exact same moment to propose to each other.
Berkley's family were well aware of the proposal clash, with the newly engaged choosing to buy a ring four months ago whilst shopping with her mum. Her mum then discovered that Tori was planning to propose too, and encouraged them both separately to pop the question during a game of Pictionary at one of their regularly games nights.
After 4 LONG months of keeping this secret.. turns out Tori McKynzi Marie Monaco was keeping one too. I cannot wait to marry the woman of my dreams. I love you forever baby. https://t.co/TgoBKvDuYM

— Berkasaurus (@BerkleyCade) February 11, 2018
Berkley was stationed as a member of the Air Force in San Angelo Texas, whilst Tori was studying at the University of Texas four hours away when they first started talking online.
Their incredible proposals were captured by Berkley's mum, and the whole world has celebrated the good news with them.
Congratulations all round!
WATCH! Boyfriend Proposes On A Slingshot Ride: