WATCH: Policeman's Surprise Proposal Prank Almost Backfired
25 July 2017, 12:50 | Updated: 25 July 2017, 14:10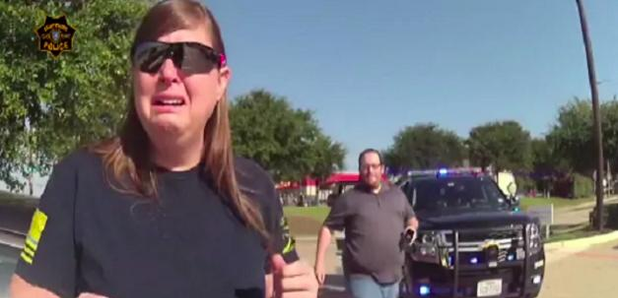 Is this the most romantic thing you've ever seen? Or is it your idea of a nightmare?
With proposal videos taking the internet by storm, it's no wonder people are feeling the pressure to make their marriage proposal even better than all of the rest. And generally that means the bigger the look of surprise on your partner's face, the better. It's even better if they shed tears of happiness.
But making your other half cry before you've popped the question? That's not the greatest start.
That's what happened to Texan dispatcher Stephen Smith who decided to prank his future wife as a build up to the big question.
After leaving his phone at home, Stephen told his girlfriend Amanda Radican that he had to work overtime and asked her to bring it to him in his parked up police car.
Unbeknown to Amanda, Stephen was tracking his phone's location and it was all part of Stephen's plan.
"He called his girlfriend, explaining he needed his phone to 'clock in', and asked her to bring it to the police station," Grapevine Police Department said.
"Smith then began a ride along with Officer Chad Hale, his cousin. When his app showed she was close by, Officer Hale initiated a traffic stop.
"Just as she started to cry, Dispatcher Smith walked up behind her, got down on one knee, and explained the warrant was actually her being wanted by him.
"He proposed on their two-year dating anniversary. Her first response was 'You lied', but once she realised what was happening, said 'I love you' and 'yes'."