Wedding Day Tips From Actual Professional Wedding Planners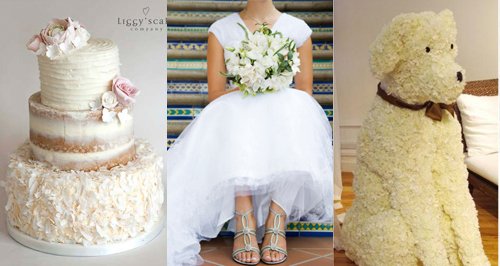 We nab some of the best ideas from these VIP party planners who know the business inside out.
There's no beating around the bush, weddings are an expensive exercise.
They can also be MASSIVELY expensive and HUGELY time consuming...
Given the average bride spent 970 hours planning her wedding last year and with only 5% of British couples able to afford a wedding planner, it's sometimes easier (and cheaper!) to nick the top dog's tricks.
So quite frankly ANY cheeky cheats that we can get our hands on we're ALL over.
Party and wedding planner Liz Taylor (@PartyMagnate) shares her top tips for the big day:
1. "If your client has a small budget - I advise them to focus on providing fabulous entertainment"
Aka. It's all in the party! But there's no need to splash the cash on an expensive DJ - why not make a cracking playlist with your partner of all the songs you both love and stick that on play on the night?
'Remember you want your guests to leave having a great time so they'll go home wanting more' #partyplanning pic.twitter.com/pOui8wB24F

— Liz Taylor (@PartyMagnate) 28 April 2016
2. Detail, detail, detail!
Weddings can be grand or small, intimate occasions, but whatever you opt for, it's the tiniest details that really bring a sense of specialness to the day.
When it comes to throwing a successful party, the devil is in the detail. For ideas visit https://t.co/G4NNCKYIA8! pic.twitter.com/trib9IZnb0

— Liz Taylor (@PartyMagnate) 22 April 2016
3. Remember to keep things fun and light-hearted...it's supposed to be a happy occasion after all!
Remember to let your own personalities show wherever possible - table favours are a perfect way to add a cute touch to your guest's experience.
Other people will feel compelled to give you every bit of advice going. Listen to it, but don't take it as gospel.
The injection of fun & colour made these place settings a success!A touch 'quackers'?Guests loved it! #LancsWedHour pic.twitter.com/4yZlaIKToR

— Liz Taylor (@PartyMagnate) 7 April 2016
Another skilful nuptial planner is Lucy (@WeddingScotland).
1. Lucy reminds us that first impressions count for a lot!
The guest list is a big source of disagreement for many couples. Compromise it key here.
Instead of inviting the world and his wife, take the time to get the invitations right. The choice of venue and your budget will of course come into play here, but try not to let it dictate your choices.
Invitations are the first impression of your wedding, make sure it's a good one! Thank you @EYiLOVE_studio pic.twitter.com/GQGJLJSGZR

— PWPS ~ Lucy (@WeddingScotland) March 18, 2016
2. The bouquet says a lot about the bride's personal taste.
Do you love roses or are you more of a wild flower type? Whatever you opt for, the flowers that you carry are undoubtedly something that's just for you on your big day.
Congratulations to Marc and Sara who married today, our first spring wedding of 2016. Love the bride's bouquet! pic.twitter.com/DOG2Og7ZMU

— PWPS ~ Lucy (@WeddingScotland) March 12, 2016
3. As long as the people you love are there, nothing else really matters...
Everyone has high expectations for their wedding, it's completely natural. However, during your big day, take a minute to look around at all the faces of your friends and family; it'll instantly reduce the pressure and we guarantee you'll be smiling again in no time.
We hope everyone had a magical Christmas spent with their loved ones pic.twitter.com/tbefLYRgw4

— PWPS ~ Lucy (@WeddingScotland) December 26, 2015
Meanwhile check out Preston Bailey's (@prestonrbailey) three wedding mantras:
1. Make sure you plan the whole event from start to finish...including the evening's entertainment.
The after-party is sometimes the best bit - time to let your hair down and let the bubbly flow!
Every time! Easy solution to avoid unhappy guests. Have an after party location planned ahead! https://t.co/evyYzEQakP

— ReadyVIP (@ReadyVIPevents) March 14, 2016
2. The wedding cake gets top priority status.
We're not going to lie here - please don't skimp on this - some of us have a very sweet tooth!
@prestonrbailey Lovely to hear that you like our wedding cakes! Here's one of our faves of the season ...#NakedCake pic.twitter.com/O5Gk2Euevn

— Liggy's Cakes (@liggycupcake) February 16, 2016
3. Put yourself in someone else's shoes. Be it your guests or your future partner.
When planning your marriage take a moment to think about how the day will be experienced from other people's perspectives. It will help you keep control of the day.
It's about getting into their shoes and listening. It's my job to make their dreams and vision come true.#weddingmarket

— Preston Bailey (@prestonrbailey) February 3, 2016
Thank goodness some people out there know what they're doing!