Who Should Pick Up The Bill On A First Date?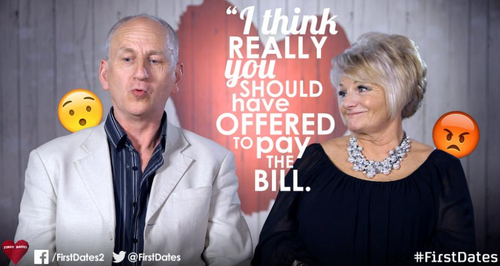 Should you stick with tradition or split the bill? YOU decide.
Is there anything more flattering yet stressful than being asked out on a first date? There are so many decisions to make! What do you wear? Where do you go? What do you do?
If you've decided to splash out on a slap up meal, how do you decide who picks up the bill? Should you stick with tradition where the gentleman is expected to pay, or should we get with the times and split the bill?
It was Monday's episode of First Dates that has sparked off the debate that sent Twitter into a meltdown.
Mary and Brian had been set up together on the Channel 4 reality TV show that claims to match people based on their likes and dislikes - the couples have never met before.
When the time came to pay for the £70.37 bill, the waitress asked: "Are you just doing half and half?" And without hesitating, Brian replied "yep", much to Mary's disgust.
In the on-screen interview after the date, Mary said: "Well, I thought Brian was very nice but, umm, I think you should have offered to pay the bill."
To which Brian replied: "I think when you first meet somebody you should always go halves, but that's just my opinion."
The modern move by Brian kicked up a storm on twitter, with viewers siding with Brian or Mary.
It annoys me when women let men pay for the meal on #FirstDates then say they don't fancy them. Split it if you're not going on a 2nd date.

— Dombelina (@Dombelina) 31 August 2016
Just caught up with the drama always go halfs it's only fair it's not a mans responsibility to pay for you #firstdates #trueequality

— Jenny (@jennylass96) 31 August 2016
I think Mary is out of touch with modern life. Id always go halves on a first date, I can pay my own way so why not half it? #firstdates

— xXMessedUpXx (@xXMessedUpXx) 31 August 2016
Mary totally embarrassed herself the way she acted over the guy not paying the whole bill and wanting to split it. #FirstDates

— Laura (@Laura_C212) 31 August 2016
My dating days are definitely over but I'd be raging if a boy took me up on my offer to go halves #thismorning #firstdates

— Shona Singer (@MrsSKSinger) 31 August 2016
Women want equality yet kick off when they have to split the bill and the man doesn't pay for it all... #firstdates

— Jaymi [TGF] (@Jaymi_Niall69) 31 August 2016
The man on #FirstDates is so much better off without that entitled woman who 'was fuming' just because he didn't offer to pay for them both!

— IamthegirlUK (@Iamthegirluk) 30 August 2016
Some people complained that because Mary ate half of the meal, she should cough up half of the bill, whilst others sided with Mary and agreed that the man - in this case Brian - should always pay for dinner.
What do you think?