Woman cancels wedding after guests refuse to pay to attend
28 August 2018, 07:50 | Updated: 23 October 2018, 13:19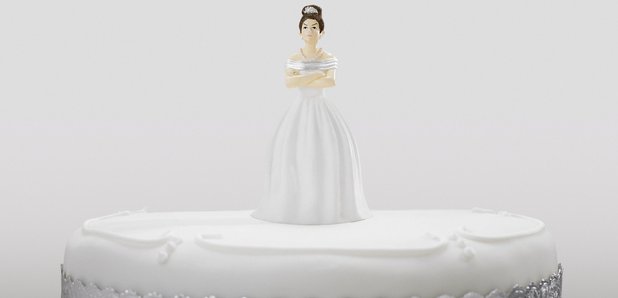 A Canadian bride cancelled her big day after guests refused to fork out thousands to attend.
A Canadian bride called her wedding off four days before it was due to take place after guests bailed because of the price tag to attend.
The story emerged after a relative of the bride shared the bizarre story on a 'wedding shaming' Facebook page and revealed all.
The relative explained how the Bride-zilla in question, Susan, had posted a lengthy rant on Facebook about how she felt betrayed by her family and friends for not coughing up the money for her big day.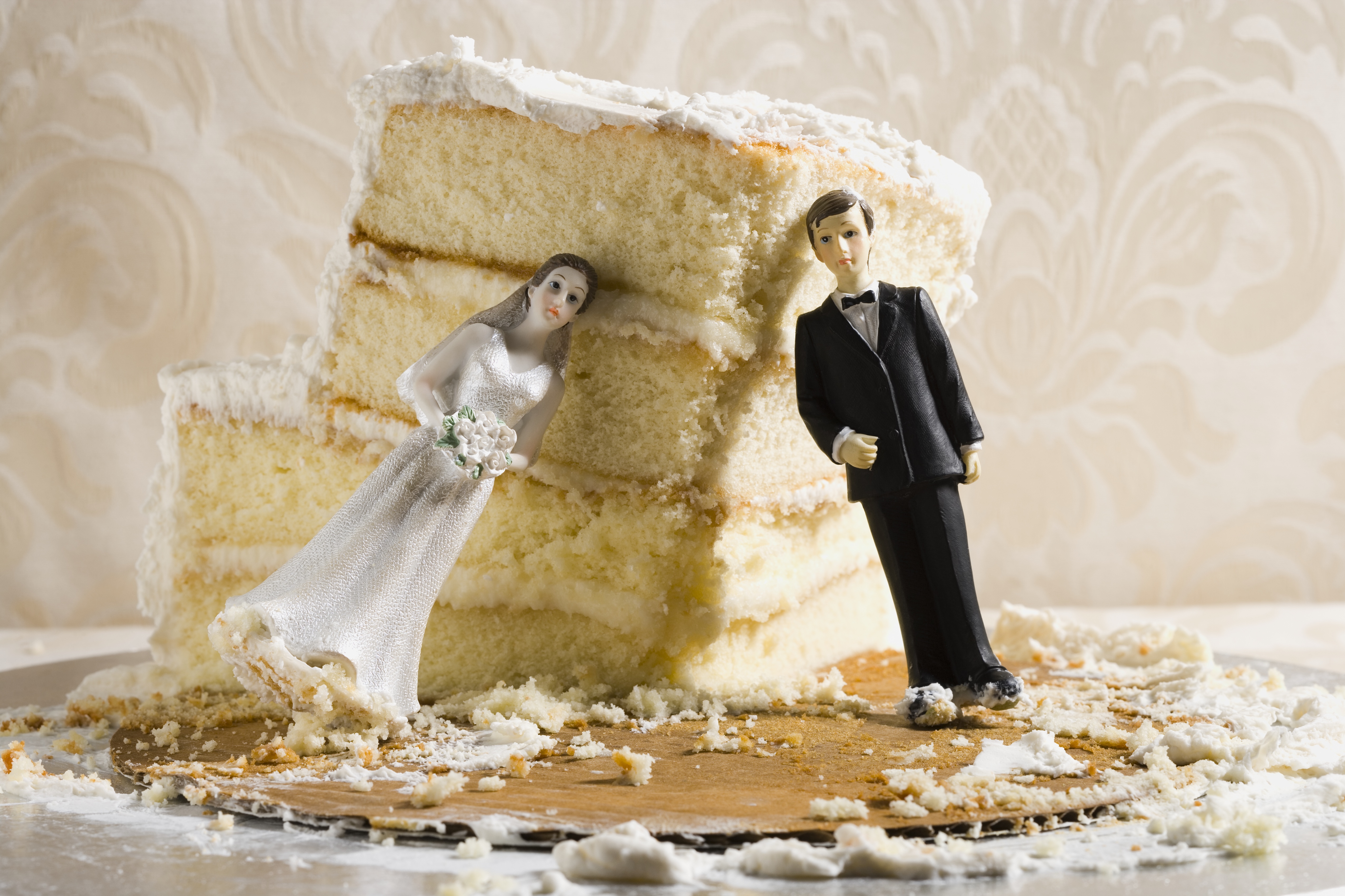 In her post Susan said: 'Dear friends, it comes with great sadness that I am announcing the cancellation of the wedding. I apologise for cancelling only four days beforehand.'
She also explained that because of the drama surrounding her wedding she had experienced 'irreparable problems' with her fiance and they were not separated.
But rather than continuing with what started out as an emotional apology turned into a rant about how her guests let her down financially...
'I specifically, I mean specifically asked for cash gifts. How could we have our wedding that we dreamed of without proper funding?' she said.
'We'd sacrificed so much and only asked each guest for around $1,500. We talked to a few people who even promised us more to make our dream come true.
Our request for $1,500 was not f***ing out of the ordinary... If you couldn't contribute you weren't invited.
'My maid of honor pledged $5,000 along with her planning services. We tearfully thanked and accepted. My ex's family offered to contribute $3,000.
'So our request for $1,500 for all other guests was not f***ing out of the ordinary. Like, we made it clear. If you couldn't contribute, you weren't invited to our exclusive wedding. It's a once and a lifetime party.'
Unsurprisingly, the wedding group that her relative shared these details on couldn't believe their eyes and screen grabs of the original post have also made their way to Reddit.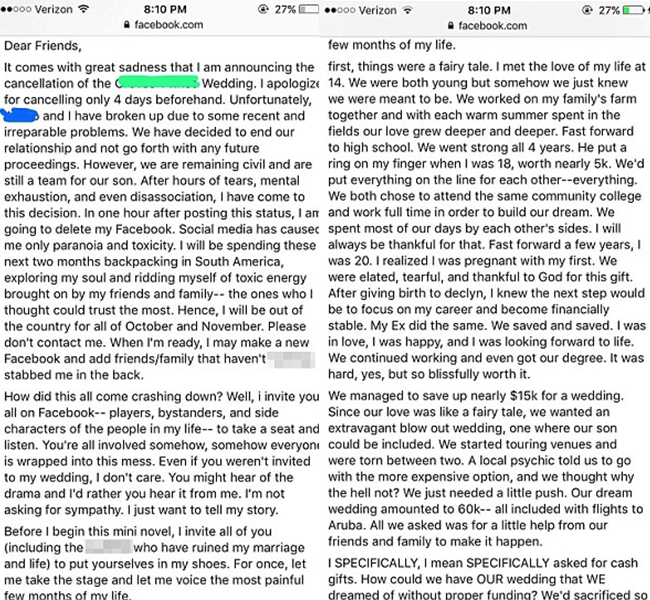 The screen grabs also show how some of Susan's Facebook friends responded to her open letter with one commenting 'I have no words. You're out of your mind Susan' while another said 'WHAT HAPPENED TO YOU??? Who the hell expects that amount of money?'.
In her lengthy post she also reveals how when she and her husband-to-be couldn't get the funds together he suggested a Las Vegas wedding, but it doesn't seem like that went down too well.
I laughed in his face, but he was dead serious. He wanted those cheap, filthy, w**** like Vegas weddings. I mean WHAT the f***?? Was he out of his mind?' she said.
'Am I some h**ch piece of f***ing trash, a hooker? Am I supposed to like the idea of getting married in the heart of shady gamblers, alcoholics, and the get rich fast fallacy? Suddenly, my body began to shake as I entered a panic attack.'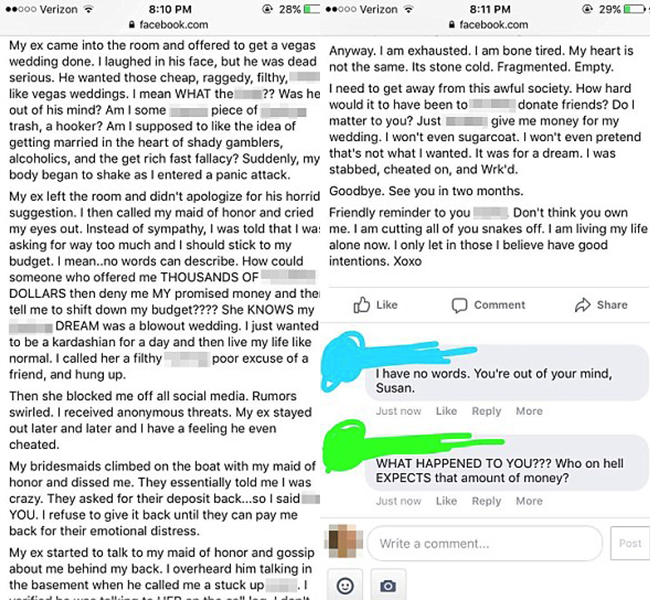 It sounds like this wedding was doomed from the start, but her relative who shared the story with a wider audience did admit that 'she has entitlement issues, but I have never known her to be this obnoxious.'
Susan signed off her post saying that she would 'cutting all you snakes off' and heading to South America for a while, another detail that the relative found unbelievable.
She said: 'We all think she's saying that to be dramatic. I also have a feeling she may have been drinking while writing this status, it's especially vulgar and incredibly embarrassing. It was only up for maybe 15 minutes before she took it down.'
Do you think this bride was right to expect so much from her wedding guests?