Woman chooses her THIRTY dogs over her husband after his shock ultimatium
8 June 2018, 17:29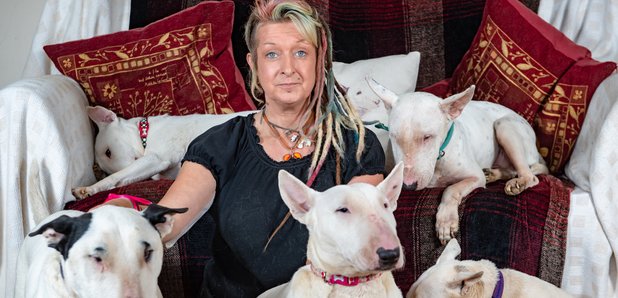 Liz Hazlam is currently caring for more than 30 dogs - but her partner Mike was hounding for a different type of life.
It was a no-brainer for Liz, 49, when her husband of twenty-five years told her "it's me or the dogs"... she sent him packing.
Now Liz claims she's the happiest she has ever been with her pack of rescued Bull Terriers, and hasn't spoken to her ex since he went on a one way walkies a 18 months ago.
She said: "I thought after 25 years, he should know giving up the dogs was not what my intentions were.
"He just got to the point where he had enough and he wanted to slow down. But I wasn't prepared to give it all up. So he decided to go, and obviously that was his choice."
Liz is currently caring for THIRTY dogs who all have behavioural and medical problems and are not able to be re-homed, as well as other dogs whose owners are on holiday.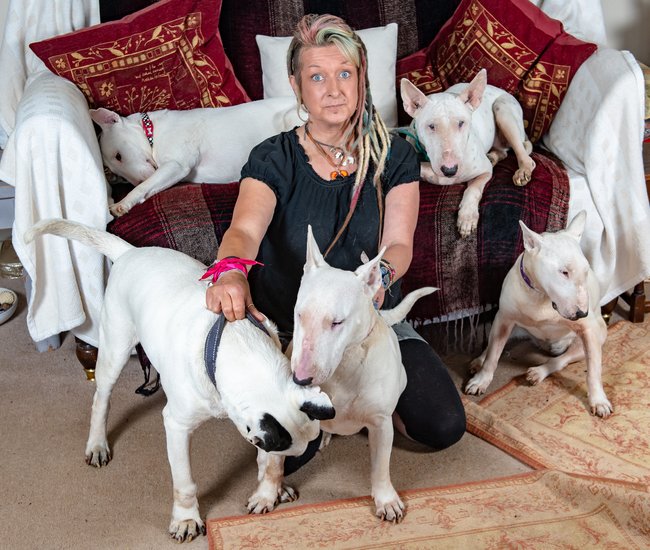 Liz wouldn't give up her dogs to save her marriage - and she has no regrets (Image: SWNS)
She is also 'mum' to a parrot and macaw, and since the split has continued to take in more dogs - and and is even looking after a homeless man.
The couple met when Liz was 16, and she left home to move in with him when she finished school. The couple got married in January 1991 and they share a 22-year-old son, Ollie.
Mutt-mad Liz grew up with dogs for most of her life as her mother bred West Highland Terriers and her father owned an animal food business. So when the couple moved into a two-bedroom farmhouse in Barnham, Suffolk, with half an acre of land seven years ago, she decided to start a boarding kennel business.
Liz then also founded BedforBullies – which rescues Bull Terrier dogs – which is when she began fostering dozens of dogs.
But the high demands animals pushed Mike down the pecking order and it wasn't long before he'd 'had enough'.
Liz said: "We just drifted more and more apart. He was heavily into his work and it left me with nothing to do. I didn't want to be a work widow so I buried myself in my dogs.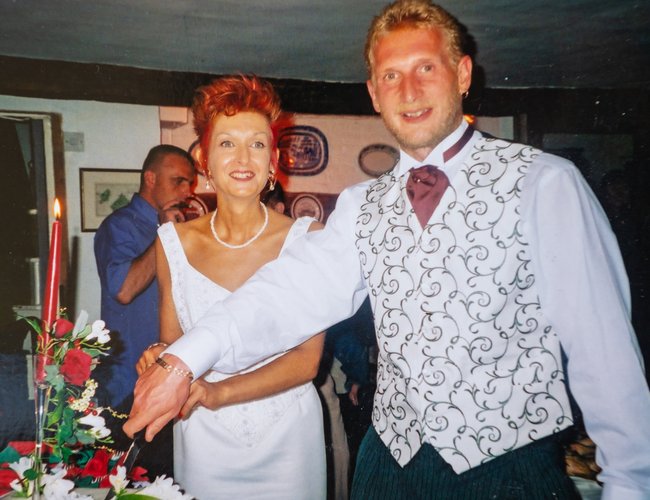 Liz started dating Mike when she was just 16 - and says he should have known she would have lots of dogs (Image: SWNS)
"He knew from the moment that we got together what I was all about. I don't know what he expected.
"He told me he was going and had sorted out some other accommodation so he packed his bags and went.
"Before we split up he kept saying 'I do not want to be doing this, I want to get a passport and go away'.
"I said that isn't going to happen so we might as well go our separate ways, which we did."
But 18 months on from the split, Liz says she and Mike have had no further contact, despite still being married.
"My passion for dogs was far too great for Mike," she said.
"He decided that it would be nice to do more other things in life. He felt as though he wanted his own life back but I said it is too much of a passion of mine to give up.
"It just got to the point where he was fed up with the dogs and wanted to slow down but that wasn't my intention.
"It is very deliberating job, you can't have a day off. I don't sit down till 11:30pm at night so you can't just go on holiday.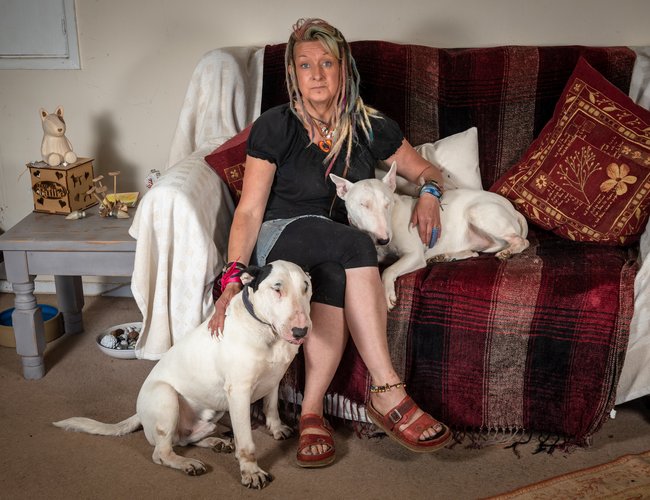 Liz says she can't turn her back on animals in need, and she is helping a homeless man too (Image: SWNS)
"And I can't just turn around and say I am not going to do it anymore, it is my responsibility, I took the dogs in I can't just stop. They are rescue dogs which cannot be re-homed.
"I have taken them in to look after them, I save dogs from all around the world that have been shot and badly injured."
Liz spends around 18 hours of her day looking after the dogs as she walks them four times a day and spends hundreds of pounds every month on their medication and other treatments.
Her kennel business is successful but only has seven spaces to let out and it doesn't cover all of her costs.
This has left her with a vets' bill of more than £4,000 as well as rent arrears on her £800-a-month home. But Liz is adamant she couldn't be happier – despite her landlord now insisting she must move out of the property within a year.
Liz said: "I have re-homed so many dogs and now I am looking for a home. I have chosen to do this. I love it."