This Woman Quit Her Job To Travel The World With Her Rescue Dog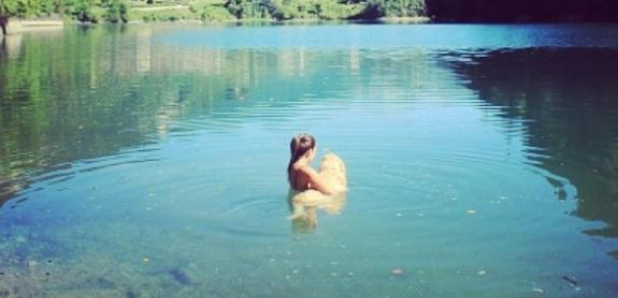 Marina Piro gave up her job to travel around the world with her dog, Odie. She's blogging her trip at PamTheVan.
Have you found yourself chanting the mantra: "New Year, new you" but still heading out in the morning on the same dull commute to the same old boring job? Then maybe you should think about taking a leaf out of Marina Piro's book and packing it all in and instead go travelling with man's best friend.
Marina and her rescue dog, Odie, have taken to a life on the road in their restored Renault van.
"I realised that I really wanted to live a different life more true to my values," she said.
"So I gave most of my possessions away, gave my notice in and bought a mistreated small van. I decided to travel by van as it would be the easiest option to have Odie the dog with me and to carry everything I needed."
Marina invested in renovating the van for Odie and herself after she realised how difficult it would be to find public transport and accommodation that would cater for them both.
"I thought that If anything broke, this way I would be more likely to know how to fix it," she explained.
Marina, who has lived in the north of England for five years but is originally from Italy, is documenting her travels over on her blog named after her set of wheels, PamTheVan.
Marina was inspired to write about her travels after realising that not a lot of online advice was geared towards women wanting to do the same thing.
Marina said: "When starting the conversion I realised that most blogs/information out there was written by men. Nothing wrong with that, however I could not understand a thing of what they were saying! All the posts I could find were quite in depth and (to me) complex."
By documenting her mechanical work and her travels, Marina hopes that it will inspire other women who are hoping to do the same thing do get on and do it - and even bring their dogs on the ride!
Marina said: "I think that too many people are unhappy with their life, with the stress of a 9-to-5 job, the struggle of making enough money and the lack of purposefulness. Many dream of travelling the world, exploring new countries and get to know new cultures.
'We are living in a time were many jobs can be done through the web, so why not take advantage of it?'
To follow Marina and Odie's adventures follow them on Instagram and on Facebook.