Woman left homeless after spending £13k on attending pals' weddings
25 April 2018, 16:12 | Updated: 23 August 2018, 16:58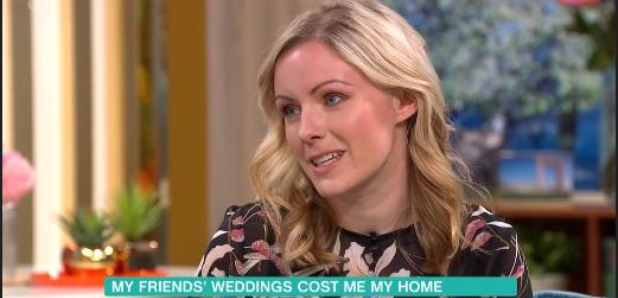 Georgina Childs had to choose between living in her own flat or turning down wedding invites... and she chose the former.
The 31-year-old spent a staggering £13,000 on outfits, accommodation, transport, hen dos and wedding presents over a four year period when she was invited to no less than FOURTEEN weddings.
But amazingly she doesn't regret it - and she opted to move home with her parents rather than miss out on watching six other pals walk down the aisle this year.
Speaking on This Morning, she explained that she ended up with so much credit card debt that she had to choose between moving back home with her mum and dad... or start saying no to people's invitations.
She said: "At the beginning of last year, the invites started coming through thick and fast.
"When you get the invite you want to book the accommodation, but as you haven't budgeted for an accommodation bill for that month or that year, it's so easy to find yourself thinking, 'oh I'll put that on a credit card.'"
Georgina added that as many couples opt to do extra activities the days before and after the wedding, many guests are required to book more than two nights of accommodation, as well as take holiday from work to ensure they don't miss any of the fun.
She said: "I was living away from home and I got to a point where I thought 'if I want to keep going to these weddings, and seeing my friends walk down the aisle, then something has to give,' and that was the thing that made me decide to move back to my parent's house."
The regular wedding guest says her parents were pleased to have her back in the nest, but friends have told her she simply needs to learn how to say 'no'.
"Some people say I should start turning down the invites from someone who I'm not as close to," she said. "It's easy to say that, but it's not as easy to turn down an invite.
"Since I've spoken about it people have breathed a sigh of relief and have said 'me too.'"