Woman's Tinder profile hit's a bum note with toilet roll lovers
7 July 2018, 00:41 | Updated: 7 July 2018, 00:42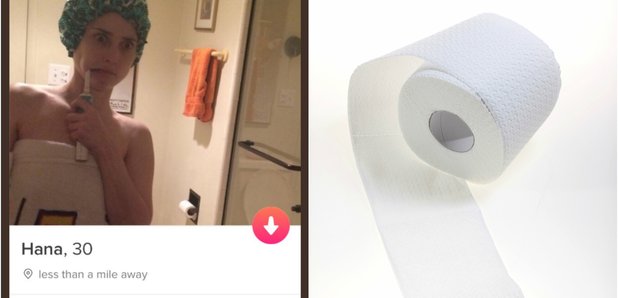 Her profile was a hit for all the wrong reasons
While having a load of men bombarding your Tinder profile with messages may seem like any dater's dream, for one woman it simply drove her potty.
After posting a quirky bathroom shot of herself for her profile, it was Hana Michels loo roll that quickly became the main topic of conversation.
The dater soon became bombarded with messages from 23 men about how wrong she was hanging her loo roll.
Posing for the snap in her bathroom, Michel's toilet paper can be seen hanging down the back of the roll…but according to some critics there's a real science to it and she hasn't quite got it right.
Sharing her shocking Tinder experience on Twitter, her post garnered over 800 comments from frustrated toilet roll users.
One user wrote: 'I think its because the paper can touch the bottom of the wall where bacteria can reside. It's probably mostly a rule for public restrooms. I always remember it from the Simpson's when CPS tries to take the kids away'
While another posted: 'She doesn't know how to use the three seashells!'
July 3, 2018
July 3, 2018
It goes the other way pic.twitter.com/uHwMfPwuij

— DylansWorld (@TheDylansWorld) July 4, 2018
Over-the-top: necessary only when the placement of the holder (often on the wall opposite the toilet) is slightly too far - and the free end being an inch closer is a huge benefit.

Around-the-back: necessary to help prevent pets/young kids from unrolling.

— Mirel (@MirelLeLian) July 3, 2018
One even shared a diagram of the toilet roll patent, showing the toilet paper hanging over the front of the roll.
However she wasn't completely alone, with some commentators agreeing with her method.
Guess it's not a complete bum note all round.