These Earrings Sold For £45 MILLION But There's Something Odd About Them...
17 May 2017, 15:19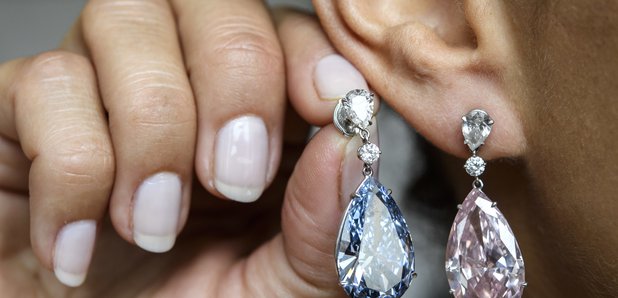 They're the most sought after earrings on the planet, but these dazzling drop earrings come with one BIG catch.
The world's most expensive earrings have just been snapped up for a cool £45 million.
Auction house Sotheby's sold the dazzling diamond pear drop earrings during a preview in Geneva, Switzerland, but weirdly they don't even match!
Yep, the mysterious buyer snapped up a stunning set of ODD earrings!
Don't worry though, the diamonds are mis-matched for the sake of design.
The Apollo and Artemis Diamonds have been described the company "truly exceptional stones", with each earring having its own unique identity.
Shining bright in a vivid blue colour, the Apollo earring weighs in at 14.54 carats and is perfectly cut and polished into a pear shape.
Its partner Artemis also shares the same pear shape but weighs a whopping 16 carats with an intense pink diamond.

So why are they so expensive?
Well, both gems are exceptionally rare, with less than 0.1% of the world's diamonds having any blue in them at all. What's more, only a tiny percentage of those is graded Fancy Vivid Blue like Apollo.
Apollo sold for £33 million and Artemis cost £12 million, despite their estimated value having been £55 million, making them the most expensive earrings ever sold.
Imagine how they'd cost if they actually matched!