Fans React As Lisa Riley Discusses DRAMATIC Weight Loss on 'Loose Women'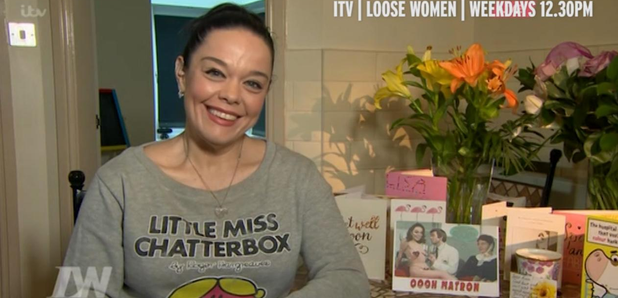 The former 'Emmerdale' was candid about the challenges she has faced.
Fan were delighted to TV star see Lisa Riley smiling and radiant on Loose Women today.
The former Emmerdale star has shed a stunning 10-stone since she began her dramatic weight-loss regime. She once weighed 30 stone but has managed to shed an unbelievable third of that after months of hard work.
The Loose Women panel – Ruth Langsford, Katie Price, Jane Moore and Stacey Solomon – went live to Lisa's home via video link to hear about her recent surgery.
Lisa had previously appeared on the show ahead of her surgery and broken down in tears, speaking of her fear about the procedure.
She revealed: "I feel great. Obviously the pain can be really bad at times especially the abdomen pain, and today more than ever the inside of my thighs, the wound is really nipping together."
Lisa added: "I've never been that frightened for anything in my life before and it took over me, but on the day of the operation I just kind of went with it and put myself in the hands of a specialist and they were phenomenal… Now it's my job to go through the recovery period."
She explained that she is due to meet her doctor to discuss her next operation later this week.
Tributes came in via social media, as fans expressed their support for Lisa's journey.
@loosewomen @Reallisariley she looks stunning and glowing with radiance always been pretty though

— Lisa Kirby (@Lisa158033) February 27, 2017
Lisa Reilly is looking fabulous! @loosewomen

— Katie (@KatieMorris3) February 27, 2017