2002 Shooting Victim Dies
19 August 2015, 19:14 | Updated: 19 August 2015, 19:18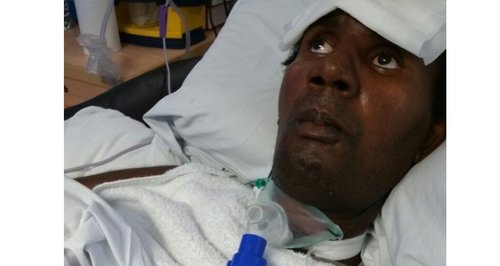 The Met Police say they have started a murder investigation after a man who was shot in Shoreditch 13 years ago died in hospital.
Marvin Couson, 39, was on an evening out with his cousin and a friend when they were caught in crossfire at a bar in Shoreditch, East London, in May 2002.

He was hit by a bullet in the chest and left in a vegetative state for more than a decade from a brain injury caused by the shooting.

Mr Couson's sisters Margaret and Deborah appealed for anyone with information about the gunmen to come forward as a murder investigation was launched.

"Marvin's suffering has now ended, but ours has only begun," they said in a statement.

"We have visited him every single day and he was not alone when he passed away.

"We want people to look at the picture of Marvin suffering and realise that this is real.

"By staying silent and not helping police you have allowed the murderer to walk free.

"The person who pulled the trigger needs to be caught and we need justice for Marvin."

Police were called to Lime in London Bar, or Lime Bar, in Curtain Road at 3.40am on May 12, 2002, after reports gunshots had been fired.

Mr Couson, aged 26 at the time, of Dallington Road, West Norwood, was found lying on the ground with a bullet wound to his chest.

He was taken to the Royal London Hospital with critical injuries to his heart and other internal organs before being transferred to the Royal Hospital for neuro-disability.

He died in hospital on Saturday, August 8, 2015.

Detective Chief Inspector Noel McHugh, Homicide and Major Crime Command, said the police are determined to track down his killers.

"For 13 years Marvin's family have been at his bedside and now tragically he has succumbed to the injuries he suffered all those years ago," he added.

"We have launched a full murder investigation and despite the passage of time are committed to finding the person who shot Marvin that night."

He said: "It was 13 years ago but people would remember if they were there that night, particularly if they fled the venue in panic at the sound of shots fired.

"We know there are potential witnesses who did not speak to police at the time and I would ask them to now please come forward with any information, no matter how small. Do not assume that someone else will contact police.

"A lot changes in 13 years and maybe you knew something at the time but were too nervous to speak to us.

"Marvin and his family have been robbed of all the things we take for granted, he was at the Lime Bar simply for a night out with friends and this should not have happened.

"His family have endured 13 horrendous years and now they no longer have Marvin and they do not have the answers they deserve.

"I would ask those reluctant to speak to police to look at the picture of Marvin lying in his hospital bed and think of his mum and dad when pondering 'do I make that call?'

"Maybe you have heard talk over the years about Marvin's shooting - if you can help please contact us."

A man was arrested on May 23, 2002, in connection with the shooting but released with no further action.

Anyone with information can call the Met Police on 020 8785 8099 or Crimestoppers anonymously on 0800 555 111.