A Right Royal Breakfast
28 April 2015, 18:10 | Updated: 28 April 2015, 18:14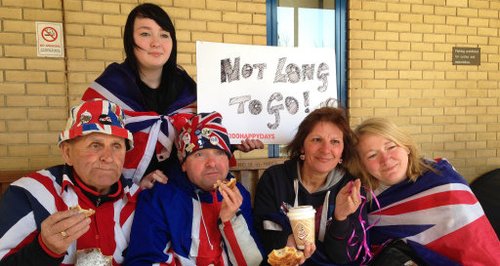 The Duke and Duchess of Cambridge have treated people who have been camping outside St Mary's Hospital ahead of the new royal baby's birth.
William and Kate thanked ardent supporters camped outside the private maternity wing where their second child will be born by sending them two boxes of breakfast pastries and coffee.

Well-wishers believe the royal baby could be a girl after the parcels arrived wrapped in pink ribbon.

The Cambridges made the gesture after watching the fans on television as they prepare for the impending birth.

A royal source said: "The Duke and Duchess had seen them on the news reports and wanted to let them know they were thinking of them by sending some breakfast."

Kathy Martin, 50, from Beckenham in south east London, said: "Two men arrived with a box of these wonderful pastries and said they were from the palace as a gift from the Duke and Duchess to say thank you for our support.

"It was really special - and we noticed straight away that they were wrapped in pink ribbons. We think it's a sign they are having a girl."

The tasty treats arrived around 7.30am and were delivered by two men in suits.

In the two white boxes were croissants, Danish pastries and apple turnovers - which were welcomed on the cold London morning.

Amy Thompson, 14, who has been camping with her mother outside the Lindo Wing at St Mary's Hospital in London for eight nights, said she was "touched" by the gesture: "It was just so thoughtful and kind and it shows how grateful they are for our support."

It is the fourth time the 14-year-old from Newcastle has camped with her mother for a special royal occasion, and around the 50th event she has attended.

Amy said she came down to London during the Easter holiday, but after dislocating her knee decided to camp out and wait for the baby.

She said: "I was here for Prince George being born and the atmosphere was just so lovely and I just wanted to experience that again.

"I wanted to be here before the baby was born because the build-up makes it so much more special on the day.

"My friends think I'm crazy but I don't care. Some people camp out for iPhones and concert tickets, I do this. I've been brought up with my mum being obsessed with the Royal Family so now I am. I just hope the baby comes quickly now."

The Duke and Duchess's second child - who will be fourth in line to the throne, the Queen's fifth great-grandchild and a younger brother or sister for Prince George - is due any day now amid reports he or she may even be overdue.

If the baby arrives today, the prince or princess will be an early anniversary present for the couple as they celebrate their fourth wedding anniversary tomorrow.

Last night, William Hill suspended betting on the day the royal baby may arrive after a flurry of bets were placed on it being born today and Friday.

William Hill spokesman Rupert Adams said betting had resumed and tomorrow was now the 7/2 favourite for the arrival of the prince or princess.

But the biggest move of the day has been for a big baby, with a child weighing between 8lbs and 9lbs the new favourite, cut from 9/4 to 6/2.

The spokesman said: "Punters are latching on to the fact that the baby is increasingly late and believe that, as a result, Kate will deliver a whopper."

Kate told well-wishers earlier in the year that her baby was due to arrive mid to late April but fewer than one in 20 women give birth on their due date.

On the NHS, induction is offered to women who go two weeks overdue.

Betfair has suspended betting on the royal baby being born on William and Kate's wedding anniversary tomorrow after a string of bets.

Cormac Dowling, politics and novelties trader for Betfair, said: "We've been watching these markets very closely over the past week and today has seen a surge of activity on the date of birth markets that we simply couldn't ignore.

"This morning the odds of the baby being born tomorrow were 9/2 but punters are adamant that Kate will give birth within the next 36 hours and we've been forced to suspend betting. Happy anniversary mummy and daddy."