Afghanistan Remembered
13 March 2015, 19:11 | Updated: 13 March 2015, 19:14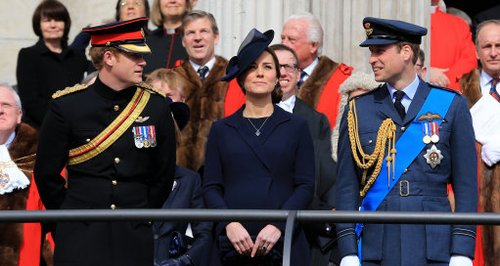 Hundreds of servicemen and women who fought in Afghanistan have taken part in a parade in London to mark the end of the 13 year conflict.
A ceremony of commemoration took place at St Paul's Cathedral on Friday 13 March 2015 where the Queen, Prime Minister David Cameron, military chiefs and veterans gathered in tribute to all those involved in the campaign.

The Archbishop of Canterbury, Justin Welby, publicly thanked those who served, leaving behind family, facing danger and suffering injury while Mr Cameron said the country was safer because of the efforts of its servicemen and women.

Almost 150,000 UK personnel were deployed to Afghanistan, and 453 British men and women died in the fight against the Taliban insurgency.

In a poignant moment during the ceremony the Archbishop rededicated a cross made of shell casings that had adorned a memorial wall in the main Allied base in Afghanistan, Camp Bastion. The monument will form part of a new Bastion Memorial Wall at the National Memorial Arboretum, Staffordshire.

Mr Cameron said in his tribute to the armed forces: "We take pride in the scale of their achievements, driving out al Qaida and building up the Afghan forces so they can begin to take control of their own security.

"Thirteen years on, the terrorist threat to our country from the region has been substantially reduced. Our families are safer because of what our servicemen and women have done.

"We also pay tribute to the outstanding contribution of our civilians and aid workers who continue to risk their lives in the service of others. Their efforts underline our ongoing commitment to support the people of Afghanistan in building a new future for their country."

Jennifer Loughran-Dickson, whose husband Sergeant Robert Loughran-Dickson was killed while out on patrol on November 18 2009, met Mr Cameron later at a Guildhall reception also attended by senior members of the Royal Family.

With her husband's five service medals proudly pinned to her chest, she told Mr Cameron about the sacrifice she and her family have made.

Holding back tears, she said: "I am very proud today. It is like closure. His life will never be gone, although his spirit and his body are. Today makes you realise that the country does respect you and does respect what your husband has done in serving his country.

The St Paul's service was attended by the Duke of Edinburgh, Prince of Wales, Duchess of Cornwall, Duke of Cambridge, his heavily-pregnant wife Kate, Prince Harry - who served two tours during the conflict - and Deputy Prime Minister Nick Clegg and Labour leader Ed Miliband.

The royal men all wore their military uniforms for the service while Camilla and Kate were dressed in dark outfits, Kate's by designer Beulah.

In his address, the Archbishop said about the Afghan veterans: "We thank you for your faithfulness: you who left family behind, you who trained hard, you who did not turn from danger, you who suffered injury and you who risked yourselves to care for the injured."

He added "We also thank those of you who stayed behind, who let your loved ones go: you who worried for their safety each day and took your phone to your bedside each night, you who lived with the pining of children, as well as your own fears. Great is your faithfulness."

"And we honour the faithfulness of all those who gave up their lives to give peace and security for others."

Tony Blair, who first deployed troops to Afghanistan in the wake of the 9/11 attacks, was also at the service as was his successor Gordon Brown.

In an interview with Forces TV, the former Prime Minister admitted that he had not foreseen just how long the struggle in Afghanistan would last when he first sent troops in.

The service featured the families of some of those killed during the conflict including Kerry Ashworth, who said a prayer as she wore the Victoria Cross posthumously awarded to her son Lance Corporal James Ashworth, who died trying to rescue his comrades in June 2012.

Also among the congregation was Lance Bombardier Ben Parkinson thought to have survived the worst ever battlefield injuries in Afghanistan when he lost both legs and sustained more than 40 injuries including brain damage, following a bomb attack in 2006.

Defence Secretary Michael Fallon, who was also at the service, said: "This was the right way for the whole country to pay tribute to everyone who worked so hard and achieved so much in Afghanistan over 13 years, especially those who sustained life-changing injuries, and those who paid the ultimate sacrifice."

In Kabul, British forces who have non-combat roles assisting the Afghan government and Afghan National Defence and Security Forces, joined with coalition comrades for a service to make the end of operations in Afghanistan.

The final chapter in the 13-year conflict came last October when the last British troops were airlifted from the sprawling Camp Bastion base in Helmand Province, leaving behind just the few hundred non-combat personnel.