Armed Robbers Jailed
17 July 2015, 17:23 | Updated: 17 July 2015, 19:30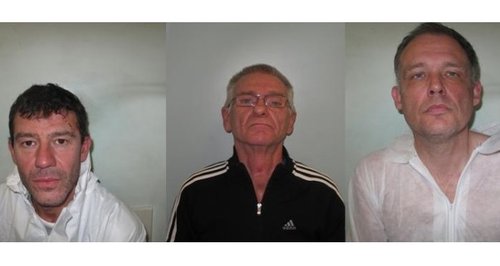 Three men involved in six gunpoint robberies at banks across London have been jailed for a total of 46 years.
Jason Byrne, John Monaghan and Paul Wiltshire
A total of £38,900 was taken in the raids between April and October 2014 which took place in Swiss Cottage, Notting Hill, Kensington, Camden, Shepherds Bush and The Strand.
Jason Byrne, 45, of Carlton Vale, Kilburn, was found guilty of six armed robberies and was jailed for 22 years.

John Monaghan, 54, of Granville Road, Kilburn, pleaded guilty at an earlier hearing to his involvement in three of the offences. He was jailed for 14 years.

Paul Wiltshire, 47, of no fixed address, pleaded guilty at an earlier hearing to his involvement in one offence. He was jailed for 10 years.

Byrne took part in all the offences, threatening bank employees with a handgun while demanding they hand over cash. Monaghan and Wiltshire acted as his look-outs, watching the exits to the premises.

An investigation named Operation Buzzsaw was launched by detectives from the Flying Squad who identified Byrne and others as suspects in the series of robberies.

Flying Squad detectives supported by Met firearms officers arrested Byrne and Wiltshire on 8 October 2014 as they targeted a HSBC branch in Shepherd's Bush Green.

Both Byrne and Wiltshire were found to be in possession of an imitation firearm, two knives and a rucksack containing £4,500.

Monaghan was later identified and arrested.

Detective Inspector Scott Hartley, of the Flying Squad, said: "I am pleased that these three criminals have received lengthy prison sentences.

"Operation Buzzsaw was a lengthy operation to identify, target and arrest Byrne and his associates, who showed no signs of slowing down their offending.

"As a result of the diligent and painstaking investigation by the Flying Squad, these criminals now begin considerable prison sentences.