Battersea Arts Centre Fire
14 March 2015, 12:22 | Updated: 14 March 2015, 12:24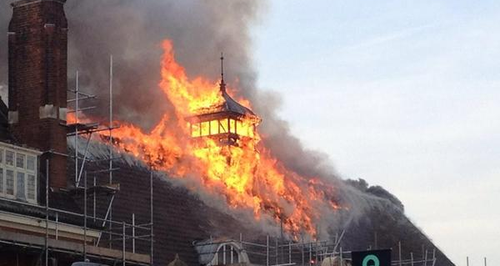 Firefighters say they've managed to save part of Battersea Arts Centre after a fire destroyed another section of it.
No one was injured in the fire at the south London venue on Friday 13 March 2015, which is thought to have started in the roof of the grade II listed building.

Local people could be seen in the street crying as firefighters fought to control the flames, which sent thick black smoke billowing into the sky.

More than a dozen fire engines and about 80 firefighters could be seen battling the fire, with many officers being hoisted into the air on extendible ladders to douse the flames from above.

Performances on Friday and Saturday were cancelled as a result while firefighters sifted through the ashes for clues.

David Jubb, the centre's artistic director and CEO, paid tribute to London Fire Brigade crews for their efforts.

He said: "We are devastated by the speed and scale of this fire. The most important thing of course is that everyone got out of the building quickly and safely.

"Our heartfelt thanks go out to the brilliant fire brigade who limited the damage caused to the beautiful old town hall."

He also thanked wellwishers for their messages on Twitter in what he described as an "extremely challenging moment".

Paul Foxcroft, 35, a comedian, was walking from his home in Battersea when he saw flames tear through the venue's bell tower.

He said: "The first thing I saw when I came out of my house were several fire engines hurtling past then I saw grey smoke in the sky.

"Crowds had started to gather. There were two ladies outside crying. I got the impression they were just so sad because they loved the building.

"It is an institution for the whole of the city of London. It is hugely popular so this fire will affect a lot of people. The back of the building was being renovated."

It is feared the fire could have caused severe damage to the building, which recently played host to Labour leader Ed Miliband and deputy leader Harriet Harman when they visited on February 23 to launch their party's arts policies ahead of the general election.

Mr Miliband tweeted of his shock at hearing the news.

He said: "Terrible to see photos of Battersea Arts Centre engulfed in flames. I was there in February. Thanks to the firefighters fighting the blaze."