Beach Body Ads Banned
29 April 2015, 18:05 | Updated: 29 April 2015, 19:08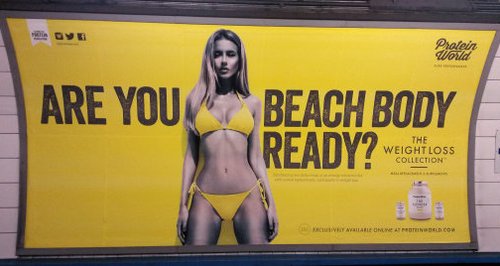 The controversial "beach body ready" ads on the Tube are being taken down while the advertising watchdog investigates if they've broken rules.
The Advertising Standards Authority (ASA) said it had launched an investigation to establish if the ad for Protein World breaks harm and offence rules or is socially irresponsible.

It said: "We've met with Protein World to discuss its "Are you beach body ready?" ad campaign.

"It's coming down in the next three days and, due to our concerns about a range of health and weight loss claims made in the ad, it can't appear again in its current form.

"Although the ad won't appear in the meantime, we've launched an investigation to establish if it breaks harm and offence rules or is socially irresponsible.

"We will now carefully and objectively explore the complaints that have prompted concerns around body confidence and promptly publish our findings."

The advert, for protein shakes, features a model posing in a bikini and asks "Are you beach body ready?"

Many of the posters, which appear in London Underground stations, have been defaced and a petition calling for their removal has gathered tens of thousands of signatures.

The ASA said it had received 360 complaints to date about the campaign.

Richard Staveley, head of global marketing for Protein World, told ITV's Good Morning Britain yesterday that the tag "beach body ready" was simply asking women if they had obtained their goals.

He revealed that the company had received a bomb threat following the launch of the ad.

And he denied the image of the model had been altered, saying: "Our own aspirations are to make the nation healthier, to ask each one of us to set our sights higher, to be fitter, to be healthier."

Asked about the view that the advert suggests women cannot go on the beach in a bikini unless they look like the model in the advert, he said: "There is an irrational minority who have decided to interpret it in that way."

He added: "We've been inundated ... with people defacing adverts, ripping them down, climbing over rail tracks in order to graffiti them ... I think that's quite extreme behaviour.

"We've had threats on our head office, physical and violent threats. We had a bomb threat ... that's been reported to the police and I can't comment any further on that. It's currently being investigated."

He told the ITV show: "We're always going to be learning and going to listen to all sides of the story."

But he added: "It's been a brilliant campaign for us and I don't see us changing anything dramatically any time soon."

Beat, the charity that supports people with eating disorders, criticised the campaign, calling it "one more example of how we are subjected daily to what we are expected to accept and aspire to as the 'body ideal'".