Bermondsey Bomb
24 March 2015, 19:08 | Updated: 24 March 2015, 19:13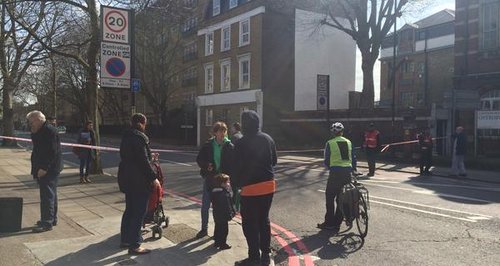 Hundreds of people who were forced to leave their homes after an unexploded WWII bomb was found in Bermondsey have been allowed back.
Police say the device has now been made safe and has been transported to Kent to be safely detonated.
Highly trained army experts built an "igloo" around the 5ft (1.5m) device in order to protect the surrounding buildings. The blast wall was created in case of accidental detonation.

Robert Shaw, a former army bomb disposal officer, said: "It's a piece of ammunition designed to kill people. It's been left there for a long time so it's more dangerous."

He claimed the techniques used by the bomb disposal experts have not changed much since the Second World War.

He added: "The fuse is the most sensitive part of it. It's a failed device.

"The explosives are a chemical substance. It can liquefy and crystallise, and become more sensitive to being knocked.

"It's liquid, like milk in the fridge. It goes off - they get more sensitive over time. The explosives harden and liquefy as temperatures change."

German bombs from the Second World War uniquely have their fuses on the side, rather than in the tail or nose, where fuses are located on more modern ordnances.

Simon Hughes, the local MP, tweeted: "Thank u 2 members of the Armed Forces & all involved in moving the #UXB 2 Kent today & grateful 2 local #Bermondsey residents 4 patience."

In the Second World War, failed bombs were taken to Romney Marsh in Kent to be detonated.

Residents living within 200 metres of the site were evacuated as Royal Logistic Corps bomb disposal experts continued to work on the bomb, and those living within 100m were asked to leave their homes yesterday.

In a leaflet given to residents living near the ordnance, the Metropolitan Police said: "The Army bomb disposal team have advised that, if the bomb explodes, buildings in the 200-metre zone will be significantly damaged and those close to the bomb will be destroyed. Remaining in your home is placing your life at significant risk."

Scotland Yard's Southwark borough said in a tweet: "Sorry if the leaflet was a bit blunt but we wanted 2be honest&persuade ppl that it's in their interest2leave (some don't)".

London Fire Brigade said that between 2009 and 2014 it was called to seven unexploded Second World War bombs and five unexploded hand grenades.