Betting Shop Conman Sentenced
9 February 2015, 19:14 | Updated: 9 February 2015, 19:25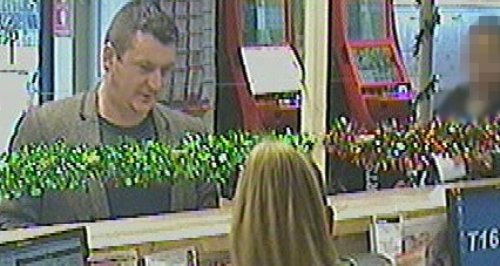 A man who tricked betting shops into thinking he'd won bets - conning them out of around £10,000 - has been given a suspended jail sentence.
CCTV of O'Connor conning a cashier at a branch in Woodford, Redbridge on 17 December 2013
Snaresbrook Crown Court heard how John O'Connor, 33, of St Mary's Road, Ealing, conned staff at 14 branches of Ladbrokes across London and the UK over around 18 months, from July 2012.

He used a number of what the betting industry refers to as "slow count fraud" tactics, to fool them into believing he had won bets when, in some cases, he had not even paid his stake.

Tactics included placing a bet but then distracting the cashier - sometimes with the help of friends - by asking questions, becoming rowdy or placing a series of small, obscure bets at the same time. This would allow him time to see if his runner was likely to win.

If it won, he would hand over his stake and claim the profit, or else pretend he had already paid and ask only for his winnings. He would then place the non-existent stake on another bet.

If he lost, he would leave without paying the stake.

O'Connor carried out his crimes at branches in Hillingdon, Redbridge, Tower Hamlets, Newham, Waltham Forest, Wandsworth and Westminster, as well as Clevedon in Somerset, Sutton-in-Ashfield in Nottingham, Chester in Cheshire, Standish in Greater Manchester, Sandy in Bedfordshire, Chelmsford in Essex and Weston-super-Mare in Somerset.

Ladbrokes reported the offences to the Metropolitan Police Service in April 2013, after he carried out the con at a branch on Oxford Street, Westminster. Detectives circulated CCTV images of him to police services around the country, and Hertfordshire police officers arrested him in July 2014.

O'Connor was charged with 15 counts of a fraud by misrepresentation, to which he pleaded guilty at Snaresbrook Crown Court on 24 November.

While on bail, awaiting sentence, he carried out the same offence at William Hill on Tyburn Road, Edington, Birmingham on 28 December 2014.

It is believed that he may have carried out the scam on many more occasions.

He was sentenced on Monday 9 February 2015 to 18 months imprisonment, suspended for two years for 16 counts of fraud by misrepresentation. He was also given a 12-month supervision order and a four-month alcohol treatment order.