Boris Bike Cyclist Killed
19 February 2015, 18:18 | Updated: 19 February 2015, 18:23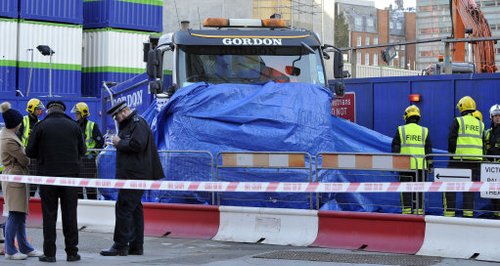 A woman who was riding a Boris Bike has become the fourth cyclist to die on London's roads in 2015.
The woman, in her thirties, was involved in a crash with a tipper truck in Victoria on Thursday 19 February 2015.

Witnesses said the bicycle could be seen crushed under the second set of wheels of the Gordon Plant Hire truck as a body lay motionless next to it.

The accident happened around 8am on Victoria Street next to Victoria Palace Theatre.

The woman was pronounced dead at the scene, Scotland Yard said.

The truck had been driving along Bressenden Place, a one-way street, and had just turned left on to Victoria Street at a set of traffic lights when the cyclist was hit on the inside.

The scene has been covered with a makeshift tent using tarpaulin by officers, who were joined at the scene by London Ambulance Service and two fire crews.

Carnel Jarca, a Big Issue seller, was stood opposite the crash when it happened.

"I just heard this big sound, a crash, the sound of crushed metal," he said.

"The truck stopped straight away and I could hear someone shouting to the driver.

"The police and ambulance arrived really quickly. We hear the cyclist died, it's terrible."

Des Dacosta, a maintenance engineer who approached the junction shortly after the accident, said: "I could see the bike all mangled under the wheels.

"I didn't want to look at the cyclist because I could tell it was a really serious accident.

"I work around here a lot and it's a very busy junction, all day and all night, it is relentless. It's just tragic, another cyclist killed in London."

AA president Edmund King said: "Sadly, this tragic death bears all the hallmarks of the 'typical' London cycle death - a female cyclist killed by a tipper truck turning left.

"These cases continue despite the AA's Think Bikes Campaign, the Metropolitan Police 'changing places' initiative and other Transport for London and Department for Transport campaigns.

"We have distributed more than six million Think Bikes stickers to drivers to put on their side mirrors to remind them to think bikes but obviously much more needs to be done to stop this carnage."