Chase Gang Found Guilty
21 August 2015, 19:32 | Updated: 21 August 2015, 19:37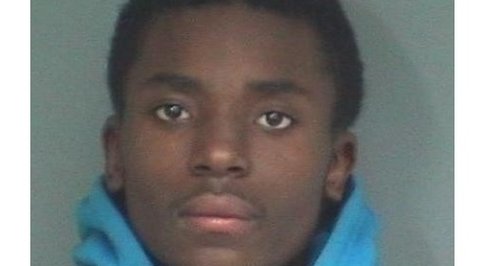 Four teenagers have been found guilty of murdering a 17-year-old stabbed to death in Hackney after he was chased for half an hour.
Two youths aged 14 and 17 along with Sanaa Ibrahim and Tre Morgan, both 18, have been convicted of their part in killing Jeremie Malenge (pictured) who was attacked in the street in January 2015.

The six-week Old Bailey trial was halted after jurors reported seeing someone in the public gallery making a cut throat gesture in their direction while Ibrahim was giving evidence in her defence.

However, they agreed to carry on regardless and went on to find all four defendants guilty of murder after deliberating for less than two hours.

Ibrahim, who wore a glittery silver top in the dock, broke down in tears as the verdicts were delivered.

They were all remanded in custody until sentencing on September 25.

On the night of the killing Ibrahim acted as the "inside woman" by flitting between the killers and their targets after travelling back from Swindon with Jeremie and his 17-year-old friend.

She also secretly texted and called her 17-year-old co-accused 36 times before the half-hour chase began, the court heard.

Jeremie, his friend and Ibrahim had arrived at Hackney Central at 11pm on January 6 at the exact time the three other defendants were seen running towards the station.

Over the next 30 minutes, the three attackers hunted the two boys through the streets to carry out the deadly knife attack.

Even as the victim desperately ran for his life, Ibrahim was caught on CCTV meeting the killers face-to-face to pass on information, then coolly rejoining Jeremie and his friend, the court heard.

They caught up with the pair in Homerton High Street, where the "sudden, brutal and terrifying" attack on Jeremie took place after his friend managed to get away, prosecutor Timothy Cray told the jury.

He was stabbed multiple times and received a fatal 12.5cm wound through his ribs, piercing the heart. He was pronounced dead at the scene.

In his closing speech, Mr Cray had told jurors: "Many central facts are agreed. It is also agreed that this was a vicious, unnecessary killing of a young man who did not deserve to be cut down on the streets of London. No excuse has been put forward for these actions and there can be no excuse.

"Instead the four defendants in their various ways either say 'not me' and then point the finger at each other or say that they were not there at all, despite the clearest evidence that they were.

"You also appreciate that we say those attempts to shift the blame, including the lies and tortured explanations that two defendants put before you from that witness box, are designed to deflect you from the truth - that all four of them acted together to carry out the knife attack that killed Jeremie Malenge."

Although she was not present at the time of the stabbing, Ibrahim was sitting just yards away and was with the killers minutes before and after.

In her defence, she said that Jeremie had been in Swindon to deal drugs that day and he had forced her to go with him back to Hackney to steal a stash of drugs from her home.

She named the three other defendants as she told jurors she saw them disposing of bloody knives into a canal after Jeremie's death.

Ibrahim, of Hackney, the two youths, and Morgan, of south west London, all denied murder.

The 17-year-old boy, who admitted manslaughter, was caught on CCTV carrying a large knife in his hand before the killing.

He was also accused of being involved in an earlier knife attack in the same area on another young man on March 22 last year.

He was found guilty of wounding with intent relating to the earlier incident.

Following the verdict, the Independent Police Complaints Commission confirmed that it had launched an investigation immediately after Jeremie's death which was now in its final stages.

The referral was made because it was understood that, in the hour before he was killed, the teenager was spoken to by police responding to reports of youths being armed with knives in the area.

Afterwards Jeremie's father said in a statement: "As Jeremie's dad I feel that there is a massive hole in my heart since my lovely son was sadly murdered. I will never forget the death of my son.

"Every time I leave my home I always see people Jeremie's age happily passing through the streets of Hackney and this always makes me think of my lovely son.

"I'm finding it hard to enjoy anything in my life because of my son's death. Jeremie was always polite and had never been in an argument with anyone in the family or outside.

"He is a big loss to our family and the killers of Jeremie have really broken our hearts. Now we know that nothing will ever be the same again."

Detective Chief Inspector Ken Hughes said: "I would like to thank the numerous witnesses who came forward to assist officers with this investigation without whom we would not have been able to achieve the justice for Jeremie and his family handed down today.

"These verdicts are the result of diligent efforts on behalf of not only the detectives investigating, but also the hard work of our borough partners at Hackney Council integrated gangs unit and the CCTV Unit without whom this crime could not have been solved.

"Nothing can bring Jeremie back to his family, but I and my team hope that today's verdict brings a measure of comfort."

Deputy mayor, Councillor Sophie Linden, added: "I cannot imagine the pain and grief Jeremie's family have been through. I truly hope that today's verdict can bring some comfort to the family.

"CCTV played a vital role in securing these convictions. As well as capturing the attack, council CCTV operators followed the attackers as they fled from the scene of the crime and Hackney's integrated gangs unit carried out further investigations helping the police to make arrests. We will continue to do all we can to work in partnership with the police."