Christmas Dinner Poisoning
23 January 2015, 17:06 | Updated: 23 January 2015, 19:09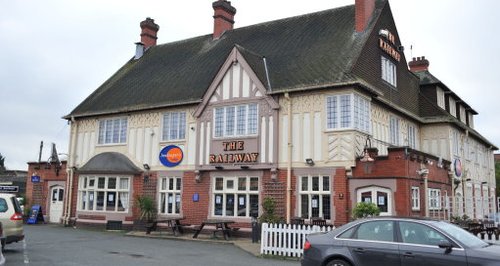 A chef and his manager have both been jailed after a Christmas dinner served at their East London restaurant left a woman dead and dozens of other diners ill.
Mehmet Kaya and Ann-Marie McSweeney, the chef and manager of the Railway Hotel in Hornchurch were jailed at Snaresbrook Crown Court for 12 months and 18 months respectively for perverting the course of justice.

Mitchells & Butlers, the chain which owned the pub, was fined £1.5 million after being found guilty of placing unsafe food on the market.

Kaya and McSweeney both lied to police, hindering the investigation by forging records relating to the cooking of turkey meat.

Mother-of-one Della Callagher, 46, died two days after eating the four-course Christmas meal at the pub in December 2012, which left a further 33 people ill.

Havering Council carried out a year-long investigation into the incident which found the food poisoning was caused by Clostridium perfringens bacteria and that the turkey meat was either not cooked adequately or not reheated properly.

The court heard that on Christmas Day 2012 the pub put on a lunch for 128 customers.

But turkey meat prepared the day before was not cooled properly after it was cooked, and then was not adequately reheated before it was served to guests.

Diners were left with food poisoning and two days later Mrs Callagher died.

The court was told that food safety records had not been filled in, and so McSweeney, of Hornchurch, Essex, who had worked at the hotel for 24 years, concocted a plan for her and Kaya to falsify them.

The pair "covered their own backs" by retrospectively filling out false due diligence logs over the cooking, cooling and reheating of the meat before environmental health inspectors could carry out an investigation.

Prosecuting, Andrew Campbell-Tiech QC told the court it was "highly likely that other food-related records were fabricated".

Sentencing the pair, His Honour Judge Alastair Hammerton said the evidence had revealed "systematic failings" in record keeping at the Railway Hotel, saying: "I am satisfied that when the decision to fabricate records was reached, both of you suspected that inadequate care had been taken by someone in respect of storage and/or cooling and/or cooking of turkeys that was to be served on Christmas Day."

Addressing McSweeney, who was 41 today, he added: "I am satisfied that you were in charge and in control of the cover-up, that no cover-up could have occurred had you decided not to embark on it." He told her and Kaya, 37, from Purfleet, Essex, that perverting the course of justice "strikes right to the heart of the justice system".

Mr Campbell-Tiech told the court that, although records prior to that December were unavailable, "the inference is that for many, many months record-keeping and policies diverged".

He added: "Ms McSweeney was clearly in charge of the process of fabrication and caused a number of others to be involved in it, including members of staff and her family."

Interviews with staff were not disclosed, and nor were records such as stock transfer logs which may have shown where the turkey came from.

The pair were acquitted at the trial of a charge of placing unsafe food on the market, of which the Ember pub's owner Mitchells & Butlers was found guilty.

Mr Campbell-Tiech said the death of Mrs Callagher had devastated her family.

Reading a statement from her husband, he said: "When Della was killed, our lives fell apart. Della's passing was completely avoidable and all three defendants appear to have little or no idea what long-term damage their actions and in some cases lies have done...

"Life will never be the same. My daughter Nancy will now never grow up with Della by her side and that is unforgivable."

Mrs Callagher's father, Daniel O'Leary, has become a recluse whose "days are filled with sadness", Mr Campbell-Tiech added.

McSweeney sobbed as her defence counsel, Janik Fielding, told the court she had been under "tremendous pressure" at the time, working 100-hour weeks, while grieving over the death of her mother and the earlier loss of her father and brother.

He told the court that neither she nor Kaya had known of the cooking errors, been responsible for them or been able to prevent them, but had covered them up to avoid trouble as paperwork had not been filled in properly.

Defending Kaya, Nigel Sangster said his client had panicked and fabricated the forms "under pressure".

Mitchells & Butlers, which turned over almost £2 billion last year and earned a profit of £123 million, took "manifestly inadequate steps" to address the risks of inadequate cooking, cooling and reheating of turkey, Judge Hammerton said.

New cooking instructions were not adequately passed on to staff, and the company fell "significantly short" of appropriate standards.

Speaking after the hearing, Osman Dervish, Havering Council's Cabinet member for regulatory services, said: "Our condolences go out to the Callagher family, who have been in court throughout the trial.

"We hope that this morning's result will act as an impetus for all food providers, both local and across the country, to ensure that their food hygiene regimes are thorough and robust."

In a statement, solicitor Helen Niebuhr, who represented Mrs Callagher's family, said they were "relieved" that the case was over.

She said: "It has been a difficult and distressing process that the family has been put through. It has been even harder to learn that Della's traumatic death could have been so easily avoided and that the company and individuals involved could have made the process a lot easier by co-operating with Havering Borough Council and admitting their guilt at the first opportunity.

"No sentence passed by the court can begin to numb the great pain that the actions that both the individuals and the company have caused."

Mitchells & Butlers said it "deeply regrets" the incident and carried out a "full and thorough independent investigation" immediately.

A spokesman said: "This case also relates to the conduct of two former employees who today received custodial sentences for perverting the course of justice. The individuals concerned had committed acts which were not in accordance with Mitchells & Butlers' food safety procedures and practices.

"The conduct for which they have been found guilty and have now been sentenced was entirely their own actions and in no way represents conduct acceptable to, or condoned by, M&B."