Court Battle Baby Dies
19 February 2015, 18:24 | Updated: 19 February 2015, 18:26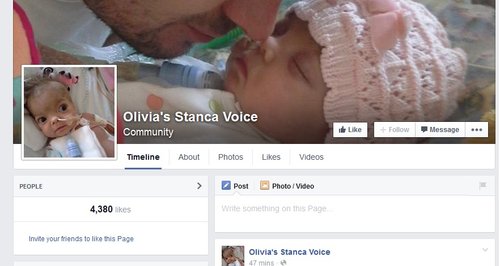 A one year old girl whose parents had been fighting to keep her on life support at Great Ormond Street Hospital has died in their arms.
A Facebook page set up to support the fight to keep Olivia on life support
Maria Stanca said her daughter Olivia had "no more chances" following the decision not to give her blood pressure drugs.

Olivia was born with a tumour on her adrenal gland which spread to her liver. She beat the disease after two rounds of chemotherapy at Great Ormond Street Hospital in London but suffered several blood infections and recurrent episodes of severe multiple organ failure.

The hospital trust was due to ask London's High Court for permission to discontinue a range of treatments, including renal replacement therapy, as doctors did not consider it in the child's best interests to continue treatment.

Parents Maria and George Stanca, from Walthamstow, east London, refused to give up hope and were planning to oppose the application and ask for everything possible to be done to keep their child alive.

But yesterday Mr Justice Moylan, sitting in the Court of Protection, was told Mr and Mrs Stanca had accepted Olivia's life was ending and agreed to life support being withdrawn following a rapid deterioration in her condition.

In a statement today, Mrs Stanca said: "Following the decision not to give her blood pressure drugs, our beloved daughter Olivia had no more chances and yesterday at lunch we decided to keep the promises we made to her.

"We always promised her that we will let her go when she wants to go, we promised to hold her and love her and we promised to get her out of the intensive care unit."

Anne-Marie Irwin, an associate solicitor with law firm Irwin Mitchell, which represented the family, said: "Following yesterday's court hearings, Olivia died in her parents arms shortly after the family made their way up to the rooftop garden at the hospital.

"This is obviously a very difficult time for them and they now need space to grieve the loss of their daughter who has been bravely fighting for her life for a year."

Writing on Facebook, Olivia's parents said: "With the greatest sadness and broken hearts we have to tell you that our baby girl Olivia became an angel this evening. Thank you so much for your support."

A spokeswoman for Great Ormond Street Hospital for Children NHS Foundation Trust said: "Our thoughts are with Olivia's family at this extremely difficult time. We appreciate how hugely distressing the past year has been for them and we are continuing to support them in every way we can.

"Olivia was an extremely ill child with a very complex and unusual combination of conditions. We tried everything we could to strengthen Olivia and give her the best possible chance of survival, having provided her with the maximum level of treatment and 24-hour nursing care on our Intensive Care Unit for the past 12 months.

"However she reached the point where she was no longer responding to treatment and had been in multiple organ failure for a number of months.

"Olivia was a true fighter, and this was matched by the strength and dedication of her parents. We are so glad they managed to have the private time they needed as a family before she died."

Before news of Olivia's dramatic deterioration, Vikram Sachdeva QC, representing her parents, told the court of "a fundamental disagreement" between the parents and the hospital trust over whether Olivia should continue to receive treatment.

Last Friday the trust obtained a court order allowing staff not to resuscitate Olivia if she suffered a cardiac arrest, and to withhold chest compression and adrenalin to keep her heart going.

Mr Sachdeva told the court that Mr and Mrs Stanca wanted time to seek expert medical opinion supporting their case that everything should be done to keep Olivia alive.

But Fiona Paterson, appearing for the hospital trust yesterday, told the judge that sadly the parents "now accept an end-of-life plan is necessary".

She said life support would be withdrawn, except for a portable ventilator and intravenous (IV) drug infusion for pain relief and sedation.

Mr Sachdeva gave their thanks and "deep appreciation to the court for its extremely sensitive approach to the case".

The judge thanked all parties for "arriving at this resolution" and said he was satisfied that the arrangements being made were "necessary and justified in the circumstances of this case".