D&G Protest
19 March 2015, 19:23 | Updated: 19 March 2015, 19:25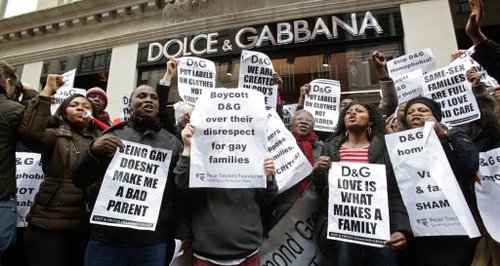 Demonstrators have been protesting outside Dolce and Gabbana's flagship store on Old Bond Street after one of the designers criticised same sex parents.
The protesters held placards carrying slogans such as "D&G we are created in God's image" and "Boycott D&G over their disrespect for gay families".

Peter Tatchell, human rights campaigner and an organiser of today's protest, said the group was supporting the campaign to boycott Dolce and Gabbana and defending same-sex parents and their children "against the outrageous claim that the children are chemical and synthetic".

Mr Tatchell said: "Such ill-informed and bigoted opinions cannot be allowed to pass unchallenged.

"Their comments are not only an attack on same-sex parents but on all parents who've had children with the aid of fertility treatment, including thousands of heterosexual couples.

"We hope today's picket will inspire similar protests at Dolce and Gabbana stores worldwide. We want to send a message to Dolce and Gabbana, and to all homophobes everywhere, that bigotry has a price. They can't expect to get away with disrespecting same-sex parents and their children."

He added: "Dolce and Gabbana are echoing ill-informed, outdated and homophobic prejudices about gay parents. Research spanning 40 years shows that children bought up by gay mums and dads are just as happy and well-adjusted as those from traditional heterosexual families.

"The key to a child's welfare is the love of their parents, not the parent's sexual orientation."

The protest was jointly organised by the Out and Proud Diamond Group and the Peter Tatchell Foundation.

Edwin Sesange, director of the Out and Proud Diamond Group, said: "Please join us in sending a clear message to Dolce and Gabbana that same-sex families are loving, happy families.

"This issue is not about same-sex families alone but also about the many straight families who have benefited from fertility treatment.

"Dolce and Gabbana's statements add to the stigma, shame, prejudice, rejection and intolerance often suffered by same-sex parents and their children. They should withdraw their statements and apologise."

Sir Elton John has gained the support of a host of celebrities after he publicly rebuked the designers for their comments to an Italian magazine against same-sex couples bringing up children.

Domenico Dolce told Panorama: "What I call children of chemistry don't convince me, synthetic children. Wombs for hire, choice from a catalogue. And then you have to explain to this child who is the mother. To procreate ought to be an act of love, today not even psychiatrists are ready to confront the effects of these experiments."

In a post on Instagram, Sir Elton said: "How dare you refer to my beautiful children as 'synthetic'.

"And shame on you for wagging your judgmental little fingers at IVF - a miracle that has allowed legions of loving people, both straight and gay, to fulfil their dream of having children.

"Your archaic thinking is out of step with the times, just like your fashions.

"I shall never wear Dolce and Gabbana ever again. Boycott Dolce Gabbana."

On Instagram, Stefano Gabbana posted "Je Suis D&G", echoing the "Je Suis Charlie" slogan that was popular after the attack at the offices of Charlie Hebdo in Paris earlier this year.

One of his other posts was a statement with his name at the bottom which said: "We firmly believe in democracy and the fundamental principle of freedom of expression that upholds it.

"We talked about our way of seeing reality, but it was never our intention to judge other people's choices. We do believe in freedom and love."

During the protest, The Spectator columnist Rod Liddle arrived and appeared to challenge Mr Tatchell over the groups' aims, although Mr Tatchell said Mr Liddle was simply filming the event.

In a blog posted on The Spectator's website earlier this week, titled "Who wants to help crowdfund my new Dolce and Gabbana suit?", Mr Liddle wrote: "My wife has insisted that I buy myself a new suit, as I lost weight and none of my suits fit me and the newest one is five years old, in any case.

"I had intended to go to Mr Byrite, if it still exists, or perhaps Millets, But now I feel it is absolutely incumbent upon me to buy a suit made by Dolce and Gabbana. One should show solidarity, no? The fascists don't just want to silence D&G, but destroy their business."