Drone Pilot Prosecuted
15 September 2015, 18:10 | Updated: 15 September 2015, 18:16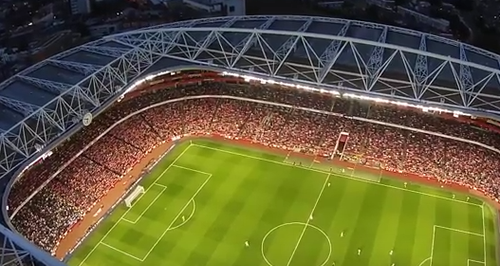 A man has been fined £1,800 for flying drones over Parliament, near Buckingham Palace and over football stadiums.
Westminster Magistrates' Court heard security guard Nigel Wilson, 42, showed "flagrant disregard" for people's safety as he shot videos to upload to his YouTube channel.

It is the first time a person has been prosecuted by the Crown Prosecution Service for using drones following a police-led operation.
Watch the video Nigel Wilson shot over Arsenal's Emirates Stadium

Between September and November 2014, Wilson filmed aerial views from heights of at least 100 metres of Premier League, Champions League and Championship football matches.

Other videos with a dramatic soundtrack showed Big Ben from close range, the Queen Victoria memorial next to Buckingham Palace and the Shard skyscraper.

Police horses were startled by the device as Wilson flew it at a Champions League group stage game between Liverpool and Ludogorets at Anfield, the court heard.
Watch the moment police horses react to a drone at Anfield
The married father-of-two also filmed a Derby County-Reading Championship clash at Derby Stadium, an Arsenal-Tottenham derby at the Emirates Stadium and Manchester City's game with Tottenham at the Etihad Stadium.

Prior to his arrest at the game in Manchester he flew the drone over what appeared to be a train.

Some of the videos filmed between September and October last year - posted on his "PV2 + Adventures" YouTube channel - carried a banner telling viewers "Please subscribe".

District Judge Quentin Purdy fined the defendant £200 for each of the nine offences he admitted. He was also ordered to pay £600 in costs and a £20 surcharge, while forfeiting the drones and cameras.

Judge Purdy told Wilson he had put the public at risk by flying the drones over busy, built-up areas.

He said: "At each and every one of these places an accident could have occurred simply by a gust of wind or something of that nature taking it out of your control.

"In each and every case you knew what you were doing. Several times you were warned by police, who seized drones from you, and on numerous occasions by people posting on your YouTube channel. It was the height of arrogance in terms of public safety."

The defendant was also given two crime prevention orders banning him from purchasing, borrowing or using for any purpose a drone or encouraging anyone else to do so.

Wilson, from Bingham in Nottingham, pleaded guilty to four charges of flying small unmanned surveillance aircraft over a congested area and five of not maintaining direct, unaided visual contact with a small unmanned surveillance aircraft.

Prosecutor Katie Weiss did not present evidence in relation to eight other charges.

Susan Bryant, defending, described her client as a "hobbyist", adding: "It was something he put a great amount of time into in terms of improving his skill."

The Air Navigation Order 2009 says operators of small unmanned surveillance aircraft must not fly them over or within 150 metres of any congested area, over or within 150 metres of an organised open-air assembly of more than 1,000 people, or within 50 metres of any vessel, vehicle or structure which is not under the user's control, unless they have obtained permission from the Civil Aviation Authority.

It also says users must maintain direct visual contact with a drone throughout its flight path so they can avoid collisions with people and buildings.

Chief Inspector Nick Aldworth, who is the Metropolitan Police's lead officer on the misuse of drones, said: "As drones become more widely available, it's important that anyone using this type of small aircraft understands that there are strict regulations on how and where they can be flown and that police, in partnership with the Civil Aviation Authority (CAA), will look to prosecute anyone who does not follow these rules.

"Flying drones over congested areas or buildings can pose great risks to public safety and security and Wilson put many people in real danger. Today's outcome should serve as a warning to anyone thinking of doing similar that they could end up in court if they ignore these regulations."

A CAA spokesman said that it was "clearly not appropriate" to fly a drone over large crowds of people or close to buildings.