Ebola Healthcare Worker Discharged
27 March 2015, 19:02 | Updated: 27 March 2015, 19:09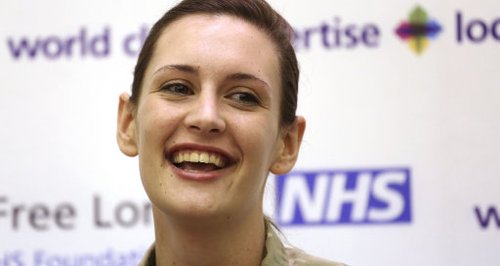 A British healthcare worker who contracted Ebola in Sierra Leone has thanked doctors at London's Royal Free Hospital she says saved her life.
Corporal Anna Cross, 25, has become the first patient in the world to be treated with an experimental drug.
She said she had been treated by an "absolutely incredible bunch of clinicians" at the Royal Free Hospital.

"Thanks to them I'm alive," she added.

She is the first person in the world to be treated with the experimental drug MIL 77 after being brought back to the UK by the RAF on 12 March 2015.

Nurses Pauline Cafferkey and Will Pooley - the only other Britons to have tested positive for the disease - were also treated at the Royal Free and both made full recoveries.

Cpl Cross, from Cambridge, told a press conference at the hospital that she was on the flight home with a "fantastic RAF team" within 24 hours of being diagnosed.

She said it was "weird" receiving her initial treatment at the same Kerry Town treatment centre that she had been caring for patients at, but being looked after by her colleagues "gave me such confidence because they're total professionals".

"I had treated a patient that was in the facility, and then the next day I was sat with them," she added.

"It was nice in a sense because I felt like we were having the same experience and we were both being treated to the same standard.

"It was odd because I had seen patients who got really sick and had died but he was doing really well, which was encouraging for me."

She described the team at the Royal Free as the "best in the world" at treating the disease.

Cpl Cross also praised the NHS, for which she works as an intensive care nurse, as well as the Army.

"If it wasn't for both of those institutions I wouldn't be here today," she said.

She joined the Army Reserves in 2013 as a staff nurse and went to Sierra Leone last month.

Cpl Cross said she cried when she found out she was free of the virus and joked that eating strawberries had helped her through it.

Although she is now Ebola-free she said it will take a "long time" before she is fully fit.

She lost 10kg (1.5 stone) during the illness but attributed her recovery to her high level of fitness due to be in the military.

She has no idea how she contracted the deadly virus and an investigation at the treatment centre failed to find this out.

Cpl Cross, who joked that she was grateful for the long career of David Attenborough, whose documentaries she has been watching while in hospital, added that her family were "thrilled" at her recovery.

Infectious diseases specialist Dr Michael Jacobs said it was impossible to say on the basis of treating one patient what role MIL 77 had played and what effects it might have on others.

"But what I can tell you is that the treatment went very well," he told reporters. "It caused no side effects that we were able to illicit and we were very happy with its use."

He said it was "close relative" of ZMapp, which was used to treat Mr Pooley at the hospital last year.

The Ebola epidemic which broke out in West Africa in December 2013 is the deadliest ever, with just under 10,200 deaths according to the latest figures from the World Health Organisation (WHO).

About 300 British military personnel remain in Sierra Leone while many other Britons have also volunteered to help the cause.

Health Secretary Jeremy Hunt said: "People that volunteer in Sierra Leone show remarkable courage and it is fantastic to hear Corporal Cross has made a full recovery from Ebola. I am incredibly proud of the staff at the Royal Free Hospital for their tireless work in helping Corporal Cross return home."

Minister for the Armed Forces Mark Francois said: "I am delighted that Corporal Cross has made a full recovery and has now been discharged from the Royal Free Hospital.

"I sincerely thank the military medics from 22 Field Hospital who initially treated her in country, the RAF team who got her back to the UK so swiftly and of course, the staff at the Royal Free who treated her so skilfully back to health.

"Corporal Cross was providing vital support to help combat the spread of Ebola in Sierra Leone, and her 300 other colleagues in country who continue that great effort - we are proud of them all."