Exploitation Gang Jailed
16 July 2015, 19:05 | Updated: 16 July 2015, 19:11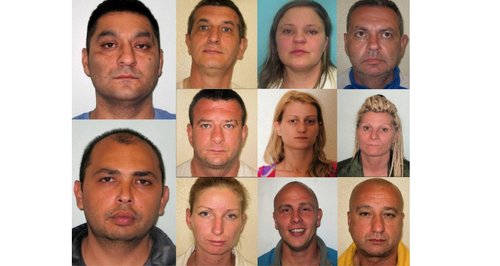 Eleven people who it's thought sexually exploited hundreds of women in London and Cambridgeshire have been jailed for a total of more than 55 years.
Police started investigating the gang - from Hungary - after a victim escaped a brothel in Newham in 2013 and shared her story with officers.

Southwark Crown Court heard how detectives from the Met Police Trafficking and Kidnap Unit (TKU) teamed up with officers abroad to execute 39 warrants in Hungary, London and Cambridgeshire after the victim told them how she was sold, sexually exploited and raped over six years.

The woman, now 26, and Jeno Burai, 30, began a relationship in Hungary but Burai was grooming her for exploitation. After a while he became abusive, beating and threatening to kill her.

She was forced by Burai to work as a prostitute in Hungary and Austria before he brought her to the UK in July 2013 when she was again sometimes made to sleep with more than 10 men a day at a brothel on Star Road in Peterborough.

Burai then sold her to Hungarian national Zsolt Blaga, 38, in Peterborough, in order to settle a debt. He told Blaga - also known as "Snake" in criminal circles - to beat the victim if she did not do as she was told.

Blaga took her to a brothel in Church Road, Newham in October 2013, where he raped her twice and forced her to have sex with men.

But on 31 October 2013, the victim was left alone in the house. Taking the opportunity to escape, she climbed over the back garden fence and made her way to Ilford Police Station, where she told police about the abuse she had endured at the hands of the traffickers.

Specially trained officers from the TKU met with the victim and, after taking an initial account of her suffering, they took her to a place of safety, ensuring she received support.

The unit launched a joint investigation team with Hungarian police and, through sharing intelligence and working together, established that Blaga and Burai were linked to a much wider criminal network. Evidence indicates that they were involved in trafficking and sexually exploiting as many as 250 women at around 50 brothels in London and Peterborough.

Between June and July 2014, Met officers and Hungarian police executed search warrants and arrested eleven people, including Blaga and Burai, who were sentenced to 14 years and six years and eight months imprisonment respectively today.

The remainder of the gang have been jailed for a total of 34 years and six months.

Detective Chief Inspector Phil Brewer, of the TKU, said: "The victim's courage in escaping the gang and telling police about what happened to her has ultimately resulted in this international investigation and the gang being jailed.

"I hope that this will give other victims of exploitation the courage to come forward and seek the help of our specially trained officers."

CPS London Chief Crown Prosecutor Baljit Ubhey OBE said: "This sophisticated and commercial scale operation is one of the largest ever prosecuted by Crown Prosecution Service London. Strong joint working between the Crown Prosecution Service, the police and Hungarian authorities enabled us to build the strongest possible case to put before the court, leading seven of those involved to plead guilty owing to the weight of evidence against them.

"I hope this successful prosecution provides some comfort to the victims these individuals preyed on and that it demonstrates our commitment to working with partners both in the UK and overseas in tackling organised crime involving trafficking and sexual exploitation."

Victims of exploitation and trafficking can call the national helpline on 0800 0121 700, report it online at www.modernslavery.co.uk or report it at any police station.