Facebook Row Killer Jailed
2 March 2015, 19:02 | Updated: 2 March 2015, 19:08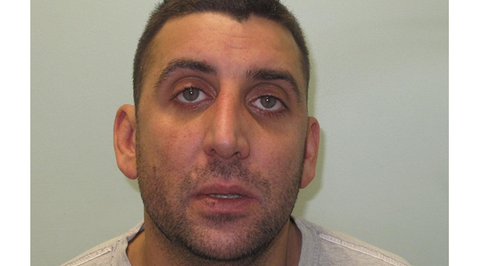 A man who killed his girlfriend in South London thinking she was having an affair on Facebook has been jailed for at least 20 years.
Kane Boyce was heard to shout "log on, log on" as he attacked Paula Newman, 20, when she refused to hand over a password to one of her accounts.

The 34-year-old, who admitted Ms Newman's manslaughter, was found guilty after a trial at the Old Bailey of murdering the petite woman on November 12 2013.

Sentencing Boyce to serve a minimum of 20 years, judge Paul Worsley QC said: "The attack was a sustained and brutal assault using fists and feet and your superior force."

Boyce, wearing a pink shirt and grey blazer, stared straight ahead impassively as he was sentenced.

The jury was told that while Boyce had the ability to charm women, he had a history of being manipulative, controlling and extremely violent to his partners.

On the evening of the murder, he attacked Ms Newman in a car and then followed her as she tried to escape to a nearby field in New Addington, south London.

Neighbours heard "piercing female screams" as he pushed her to the ground, hit her and stamped on her face, causing a major haemorrhage.

Boyce bundled his girlfriend back into his car and drove her to a friend's house where he showered her.

But it was only hours later, as she was slipping in and out of consciousness, that he finally called an ambulance. She died from her injuries.

He lied, claiming she had a fit, collected her clothes and destroyed evidence linking him to her state.

Sentencing Boyce, Judge Worsley said he was "controlling, obsessive and violent" towards women.

He added: "I regard you as a man who has demonstrated that you are a danger to young women who form relationships with you.

"Paula was a vulnerable woman. Besotted by you, she was only 20 and you were 13 years her senior, almost a foot taller and you weighed some seven stone more than she did.

"The attack was a systematic, brutal assault using fists and feet and your superior force.

"You had a history of violence and controlling behaviour towards her.

"You have a record of cowardly attacks towards other women going back 15 years."

The judge accused Boyce of creating a "tissue of lies" to try to avoid justice.

Ms Newman's brother Gary told the court her death has left her family "shocked, cheated and devastated".

In a victim impact statement, he said her four brothers are wracked by guilt they could not protect their little sister.

He said: "We are all devastated and confused and want to know the truth about what happened to our sister."

Paying tribute to his sister, he said: "Paula was a lovely beautiful girl who we saw growing into a beautiful young woman.

"We were just starting to feel that Paula was standing on her own two feet.

"When the family gets together it doesn't feel the same anymore because Paula isn't there.

"It hurts to think that all we have are memories of her, and won't get the chance to hold her and hug her again."

Detective Chief Inspector Diane Tudway said: "Boyce's utter obsession with his unfounded belief that his girlfriend was cheating on him led him to brutally attack her.

"He then tried to cover his tracks, disposing of evidence and concocting a series of lies that he rattled off to his friends and paramedics and later police.

"The prosecution refused to accept his plea to manslaughter. I am pleased the jury have now backed that decision and agreed his actions were such to cause Paula really serious harm in a blind rage because she refused to let him access her private social media accounts.

"I am grateful for the bravery of Boyce's previous partners who came to court and gave evidence of being assaulted by him.

"I urge anyone who is in a relationship and feels they may be at risk of domestic violence or abuse to find out about their partner's previous history under Clare's law. I encourage all partners in any form of abusive relationship to report it and seek help from the police or relevant supporting agencies."